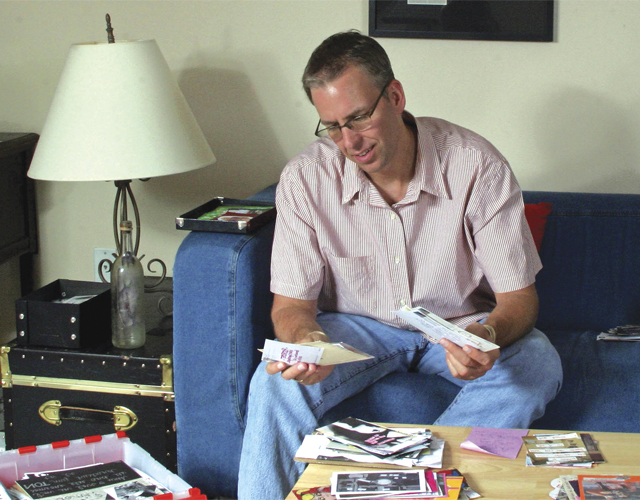 "I'm not making friends in college because I spend Friday nights on Facebook remembering friends from home," reads one postcard in Frank Warren's latest PostSecret book, Confessions on Life, Death, and God.
This secret, and countless others like it, are part of a community art project started by Frank Warren in 2004. He asks strangers to mail their secrets to him anonymously, written on the backs of hand-decorated postcards. Warren has received hundreds of thousands of secrets written on unique postcards since that date, from people all around the world. Warren has put these secrets into five books and numerous art exhibits. The cards were used in the All-American Rejects music video for their song, "Dirty Little Secret."
Warren will be visiting Oswego State on April 29 at 7 p.m., as part of a PostSecret tour of fourteen universities across the country. Warren speaks to communities and colleges to share the importance of PostSecret in showing people that they are not alone. Often, an anonymous secret he shares might talk about something a person in the audience has gone through as well. As one secret reads, "We're all so connected, I desperately wish we knew it."
"I find a lot of purpose when speaking to college students or other groups," Warren said. "I try not to talk about myself that much. Instead, I share the stories and secrets that have been most meaningful to me and, in some cases, changed people's lives."
Warren started PostSecret because he was stuck in "a very tedious job five years ago," and PostSecret was a way for him to "explore new opportunities."
"Never underestimate the value of a boring job," Warren said. "It just might motivate you to find your purpose. Traveling to colleges and talking about [and listening to] secrets is very gratifying now and seems like it's exactly what I'm supposed to be doing."
Warren has been called "the most trusted stranger in America" because of his work.
The secrets he has collected range from funny and light, such as "I have stopped holding in my farts when I'm around you," to serious and, sometimes, very dark. One such secret reads, "I tried to commit suicide. They suspended me for it."
Warren said he enjoys speaking to colleges like Oswego State.
"I hope people who are in dark places can see that they are not alone with whatever secret might be haunting them," Warren said. "Some secrets can be shocking but I've never been scared by one."
He encourages those who attend his events to share their secrets, either with someone they love and trust, or with the entire audience. Three microphones will be set up among the audience in the Campus Center Arena to give those who wish a chance to speak up and share their secret.
There will be a few people called "runners" holding the microphones, who will make sure everyone who wants to speak up gets a chance, said Becky Nadzadi, campus center programming coordinator.
Based on previous PostSecret events, Nadzadi said Oswego State can expect a wide turnout for Warren's visit. He recently visited Maryville University in St. Louis, his first stop for this spring's tour, and the event was a success, selling 446 tickets.
"We sold out. That was capacity," said Alysha Kinney, engaging issues chair for Maryville's campus activities board. "Everybody loved it. He spoke really well."
Kinney also said that many audience members shared their own personal secrets at the event, taking advantage of the microphones spaced among the crowd.
"It's really great to see that," Kinney said, "and that people support each other the way they do."
Nadzadi expects Warren's visit to Oswego State to be just as popular.
"Typically he, around the country, will sell about 2,000 tickets," Nadzadi said. The Campus Center Box Office has 2,300 tickets available, so "we may not sell out but we will get close to it."
Planning the event, said Nadzadi, is "a matter of coordinating with all of the offices on campus," including ticketing and University Police.
"I'm also working with SAPB and Lifestyles, and Res Life are helping also," she said.
Warren, said Nadzadi, "wasn't thrilled about it being in an arena, but he agreed to it." The event managing staff has to now make sure they "have everything that [Warren] needs" and also "be sure that we're following all guidelines."
Tickets for this event are on sale now and are $7 for students, and $15 for faculty, staff and the general public.
Secrets can be mailed on four-by-six postcards to Frank Warren at PostSecret, 13345 Copper Ridge Road, Germantown, Md. 20874.