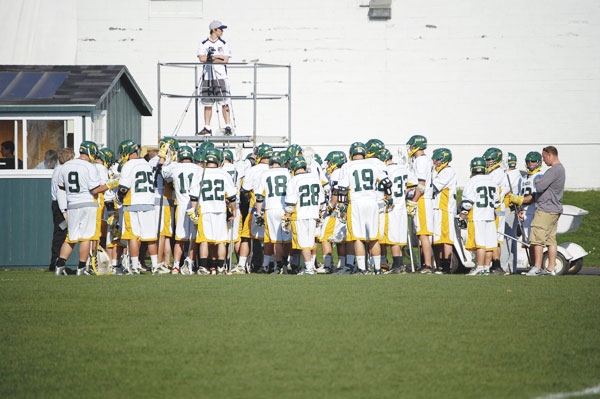 The Oswego State men's lacrosse team is looking to improve on its first winning season in SUNYAC since 2002, but faces major hurdles after graduating their two leading scorers last season.
The Lakers graduated seven seniors last season including leading goal scorer Mike Recor (37 goals) and leading set-up man Mike Brewster (28 assists). Recor and Brewster amounted for 90 of the team's 235 points last season. The seven seniors combined for 106 points, 45 percent of the team's offensive production.
"We're trying to spread the scoring around this year," coach Dan Witmer said. "(Mike) Brewster and (Mike) Recor took the team on their back. It won't be that way this year." Witmer returns to the team for his 28th season has head coach.
This year's team features 10 freshmen, 12 sophomores, six juniors and eight seniors. The team nominated senior defenseman Dan Wilcox, attacker Dan Scarazzo and goalie Judd Robinson as captains at the beginning of the season for their dedication to the program and their hard work on and off the field.
In his three previous years with the team, Scarazzo has contributed to the Laker offense, registering 47 points on 26 goals and 21 assists. Scarazzo has been a consistent goal scorer the past two seasons, scoring 13 goals each season.
Wilcox has proved to be a versatile defenseman for the Lakers throughout his career. Entering this season, Wilcox has accumulated 134 ground balls and has gone 15-for-74 on faceoffs.
Robinson, the emotional leader of the team, has improved in net each season. His winning percentage, goals against average and save percentage have all improved each season. Last season, Robinson won a career best eight games in net, leading his team to an 8-9 overall record, the team's best since 2002. For his career, Robinson has amassed an 11-23 record with a 12.13 goals against average and a .572 save percentage. Robinson's five wins in SUNYAC equaled the combined win totals in SUNYAC over the previous three seasons.
"He's a battler," Witmer said. "He has a strong drive to succeed. Teammates love him. When he talks, the team listens."
Last season the Lakers were outscored 178-145 (49-27 in the first period) and outshot 710-524. The disparity in scoring and shooting is due to the team's schedule, which typically features a difficult non-conference. Last season's non-conference schedule included St. John Fisher, Nazareth College, Rochester Institute of Technology (RIT) and St. Lawrence. This year's non-conference schedule features 11th ranked Nazareth, RIT, St. Lawrence and 13th ranked St. John Fisher.
"Playing those strong teams will help when we play the teams in our conference," Witmer said. "It might mean taking a hit on the overall record but it will prepare us for the games against (SUNYAC teams)."
The Lakers struggled against the four opponents, losing all four games by a 67-18 margin. However, the Lakers have won four of the team's other five non-conference games. This season, Oswego State has avenged losses by SUNY Maritime and Utica.
"We said that we want to be where we were last season if not better," Witmer said. "We want to try and beat some of the teams that knocked us off last year."
The Lakers are hoping that the freshmen will be able to contribute to the team's production this season. Midfielders Chad Smith and Adam Jean have stood out this season, combining for 17 goals. Defenseman John Roetzer has proved to be multi-dimensional, collecting 18 ground balls and winning 18-of-66 faceoffs.
Through 10 games this season sophomore attacker Andy Lever and Scarazzo have led the team offensively. Lever has totaled 25 points on a team-leading 12 goals and a team-leading 13 assists. Scarazzo is second on the team in scoring with 19 points on 10 goals and nine assists.
On the defensive side, junior defenseman Eric Zerrahn (35) and Wilcox (34) lead the team in ground balls. Junior midfielder Elliott Couch is the team's leading faceoff man, winning .414 percent.
Following a 12-5 loss to ninth-ranked SUNY Geneseo to begin the SUNYAC season, the Lakers will play at SUNY Oneonta on Saturday, April 10 and host SUNY Potsdam on Wednesday, April 14 as the team hopes to build upon last season's success.