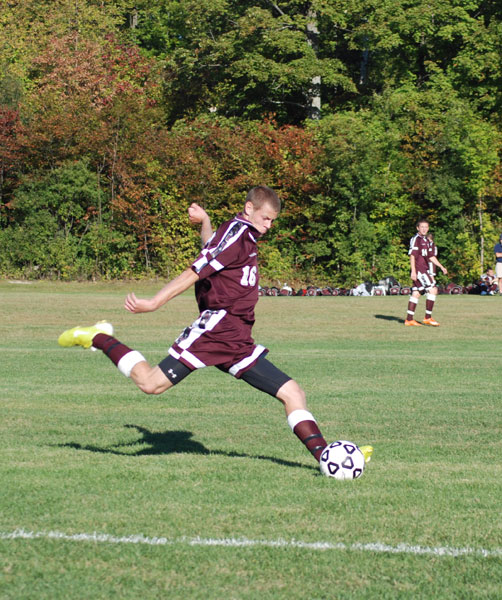 For most people, sports are nothing more than a hobby; however, Kasey Garrand lives to play soccer.
Garrand, a sophomore defender for the Oswego State men's club soccer team has been playing the sport he loves for over 15 years.
"Ever since I've known Kasey, if there was a ball in the vicinity he would be dribbling it," said Jonathan McDonald, Garrand's hometown friend.
"He always wants to play," said Demetrius Kramarchyk, freshman goalkeeper for Oswego FC. "I see him playing all the time."
On the field Garrand's hard work, dedication and intelligence sets him apart from his teammates. His role as a leader not only improves his play, but that of his teammates.
"Kasey is like a captain out there," Kramarchyk said. "He is always telling people where to be on the field and what to be doing. I notice a difference when he is off the field."
Corey Trombley, Garrand's high school teammate at Northeastern Clinton High School and current club soccer teammate, speaks volumes about Garrand's play. Garrand and Trombley have been best friends and teammates since third grade.
"He's a great teammate," Trombley said. "He is very loud and always lets us know what's going on."
Garrand primarily plays center back, the core of a team's defense. The position can be described as the "quarterback" on the soccer field.
Garrand's intelligence allows him to excel at this position.
"He has a very good knowledge of the game,"said Trombley.
Beginning in his sophomore year of high school, Garrand started as center back for the Cougars' varsity team. Starting on a varsity team as a sophomore is a feat, but Garrand's situation is a little more special.
Northeastern Clinton, located just outside of Champlain, N.Y., graduates approximately 160 students per year. Although relatively large, Northeastern Clinton has no football team. This makes the soccer team very competitive. Despite the competition, Garrand started on the team for all three years.
The emotion and intensity Garrand puts into his play is unmatched. Every play Garrand treats it as if it were his last.
"When I see people not working as hard as me it pisses me off," Garrand said.
"He's a pretty intense guy," Kramarchyk said smiling.
The desire to succeed is what drives Garrand when on the field.
"Getting rewards really pushed me," Garrand said. "Hearing the coach talk positive about me and the other players was so rewarding."
As a junior and senior, Garrand was elected captain by his teammates. On the trophy shelf, Garrand has two CVAC all star awards as well as two team MVP awards.
After his high school glory days, Garrand had aspirations of playing collegiate soccer. After arriving at Oswego State, Garrand realized that due to time constraints, he would not be able to play varsity soccer. Instead, he opted to play on the less competitive club soccer team.
Looking back, Garrand wished he had made different decisions.
"If I could go back I would have taken a year off from school and played semi-pro soccer," Garrand said. Now in his second year of an adolescence education major, Garrand acknowledges that playing soccer at a higher level is now out of the picture.
Soccer has not always been Garrand's passion.
"When I was a kid I liked basketball more," Garrand said. At first, "soccer was just a good way to get rid of energy."
Garrand's love of soccer began to flourish in his adolescent years.
"I started to like soccer more around middle school," Garrand said. "I was a lot better at soccer than at basketball."
Teammates know Garrand as a great leader. When fans watch him play they notice his blazing speed. McDonald, a Northeastern Clinton alumnus, remembers Garrand as a player that "hustled so much."
"If he got in a foot race, sometimes it seemed like he forced himself to the ball," McDonald said.
"Kasey added speed with hard work and determination. That combination is what made him great."