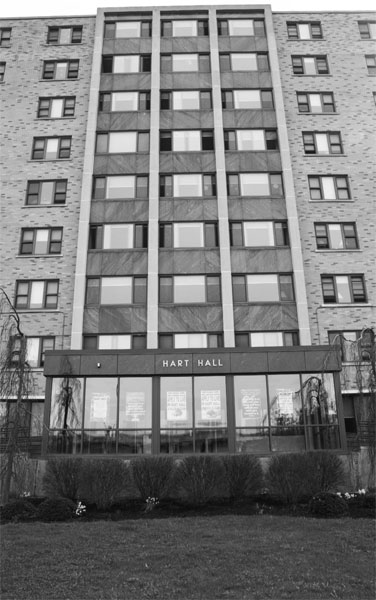 As housing selection for the fall semester begins, students in Hart Hall are wondering if transfer students not in Hart's Global Living and Learning Center will be filling potential extra spaces next year.
Residence Life and Housing won't know if transfer students will be assigned to live in Hart Hall until at least May when occupancy numbers are finalized said Rick Kolenda, director of Res. Life.
"It depends upon how many students sign up for Hart Hall and what our occupancy is going to be," Kolenda said. "Why would you create triples for freshmen and/or transfers and have empty rooms elsewhere?"
Last year the second and forth floors of Hart Hall had empty rooms that were reallocated for transfer students who would have been forced to live in triples elsewhere on campus, Kolenda said. These students were not required to participate in the IST program.
"Our first choice is to fill Hart Hall with students who apply for and participate in the Global Living & Learning Center program," said Marie Shuman, associate director of Res Life.
"We feel it isillogical to leave a space or a room open in one building while overcrowding rooms in other buildings."
IST, or International Studies, is a major part of Hart's Global Living and Learning Center. The IST class, Global Issues and Awareness is a required one-credit class for living in Hart.
Although the decision to again allow non-IST students to live in Hart hasn't been made, non-IST transfer students that came in last year will not be allowed to remain in their current situation.
"All the non-program students who are currently living in Hart Hall will not be permitted to live in the building next semester unless they apply to and are accepted into the program," said Nina Monte, hall director of Hart Hall. "If they choose not to do so they will be required to find other housing arrangements."
Getting into the IST program is largely a formality as the majority of students are accepted, Kolenda said.
"Our plan is to make it easier for students to sign up to live there, potentially allowing students to choose a room in Hart after submitting their application online," Shuman said.
Rebecca Burch, a faculty resident mentor in Hart, feels the opening of the Village this fall will decrease the housing crunch on campus that plagued Res. Life last year.
"Although there are always rumors about non-IST students being placed in Hart Hall, it has been stated that with the opening of the Village, some of this crowding and pressure will be relieved leaving Hart with only IST students," Burch said.
Although some students were initially unhappy with non-IST students living in Hart, many now see it as another opportunity for learning, which is what Hart is all about. All transfer students in Hart were invited to attend all of the programs and events that IST students attended and some even decided to join the program.
The result is that students gained opportunities for learning outside the classroom and the IST program remained unchanged, Kolenda said.
"However, if the administration chooses to accept even more students as a result of increased living spaces, then the overcrowding will still be an issue and the possibility of non-IST students in Hart, may still exist," Burch said.
With the infusion of non-IST students and more vacancies in Hart, there has been a big push to inform incoming freshmen and current students of the opportunity afforded by Hart Hall's range of experiences.
"We're providing students opportunities to learn, to engage, to be civically minded, to make good choices and to understand the consequences of their choices," Kolenda said.
Hart Hall has been working to get the word out to students, and GRMs have been on hand during open house programs to answer questions for prospective students and working to promote the positive aspects of Hart.
In the past, opportunities to interact with people from other cultures, global learning conferences and faculty resident mentors have all contributed to the unique experience in Hart.
"Very little has changed for the IST students and we are planning on keeping it that way," Burch said. "It is what we do and how the building was designed."