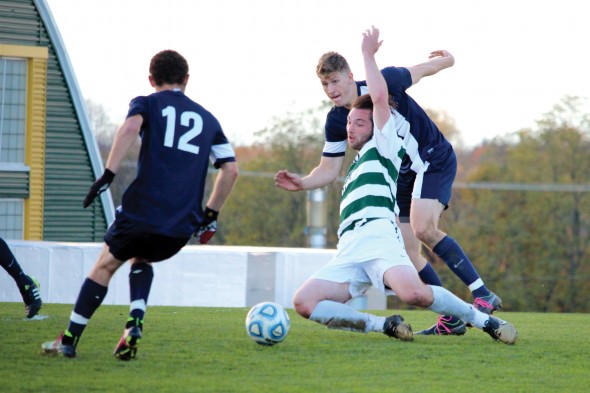 The Oswego State men's soccer team is preparing for its first playoff game since 2009, as it will go on the road to take on the College at Brockport Golden Eagles.
The Lakers have finished the season with a record of 5-10-2, a significant improvement over the 2013 campaign, which saw the Lakers fail to win a single game. They started off the season with a victory this year, and it certainly gave them the confidence boost they needed to get the season underway.
Head coach Robert Friske is excited for the current team, and recognizes that there is a presence on the team that will be here in the future and it has the potential to be something even greater.
"They're excited," Friske said. "It's a young team. We have some nice veteran leadership, but we have a lot of young kids on the team as well who are contributing, this is exciting for everyone. Let's not just be happy to make the playoffs. We're in it to win it. We're trying to become a great team."
Despite winning its first game of the season, the early part of the campaign was a struggle for the squad as it would not win a game until the month of November and went on a massive scoring drought. However, it was able to right the ship in order to clinch a postseason berth.
"We began pretty unprepared, but they've worked really hard to get in shape and become a tight group and become friends, and they're starting to have chemistry and results at the same time," Friske added. "The whole conference is tough, so it doesn't matter who we face. Everyone is a challenge, with plenty of tough teams."
Friske also sees the offense improving over the course of the season is a key contribution to the improved results of the team, and he hopes it maintains going into this weekend.
"We went from a team that barely got double digits in shots and shots on goal, and now we're averaging in the teens and getting close to 20," Friske said on his team's improvement throughout the season. "It's really promising."
"We had some problems scoring, but we're getting more opportunities," Friske said.
The players have a positive aura going into this weekend and fully believe they have what it takes, as a group, to succeed.
"We've got to win. We all believe we can win, everyone believes in each other," said Matt Massenzio, junior midfielder. "This is the biggest game of the season coming up we've just got to be ready for it. One game at a time."
The College at Brockport will be no easy opponent for the Lakers, but they are showing confidence and know what they need to do.
"We can't give up any set piece goals," Massenzio said. "I think the team will pull through and finish their chances. Everyone wants it so bad, especially since we've already lost to Brockport the way we did," Massenzio said.
The Lakers started to gain confidence after a dramatic 2-1 victory over SUNY Potsdam at home on Alumni Weekend, and from there the Lakers went on to win three matches in five contests, including victories against Buffalo State at home and SUNY Geneseo on the road, putting them in prime position to make the playoff push they did.
Connor Lunduski, a freshman who has had no problems making his presence known on the team by contributing some big goals throughout the season, thinks the team has become a family and has improved throughout the year.
"As time has gone on, we've been playing and working hard together," Lunduski said. "We've got to stay as focused as we can and stay focused on what we need to do and not make as many mistakes as last time. They're a very physical team, so we need to be able to play our own game against them."
The Lakers will travel to The College at Brockport to take on the Golden Eagles at 6 p.m. on Saturday.
The winner of the match-up will travel to SUNY Cortland to take on the Red Dragons who are the 2nd seed for this year's SUNYAC Championships.
The Lakers suffered a 4-1 loss against the College at Brockport earlier this year and will be looking to take the most important game of the season from it.
"We will feel great going into the postseason. We've got a tough test at hand, but I think we're ready," said Mitch Brickman, sophomore midfielder. "We're a much more tightly knit group, and it's helped to improve our scoring, which was huge during the conference games."
He is very confident about the team's chances, and he expects to come out with a win.
"The mindset this weekend is a W, to come out with a win and move on to Cortland," Brickman said.