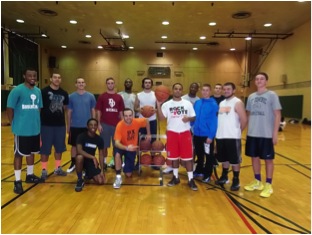 This past weekend, Campus Recreation held events for students' family and friends during their stay in Oswego.
On Friday, there was a 3-point contest in Lee Gym. Twenty-four participants took part in a competitive, but friendly atmosphere. In addition to students, family members ranging from young children to parents joined in. Each participant had two attempts to score as many 3-pointers as they could within the allotted time. The top six contestants advanced to the final round. Jahmeer Rollin and Daniel Ross were the winners of the event and received championship T-shirts.
Later that night, there was a Splash-In movie from 8 to 10 p.m. The forty people who attended the event floated around Lee Pool in inner tubes while watching Frozen. Refreshments were provided by Auxiliary Services.
On Saturday night, Open Skate took place in the Marano Campus Center Arena and included an immense turnout of 238 participants. In addition to ice skating, there was a candy guessing jar and two trivia games for children. Auxiliary Services provided refreshments for this event as well.
In sports news, the men's flag football semifinals took place Sunday afternoon. Save the Receipt dominated 2 for 1 in a quick sweep, 25-6.
Hustlin Homies also faced off against Win or Lose We All Booze. The cold, chilly Oswego weather matched the competitive atmosphere of the game.
Win or Lose We All Booze took off running from the start of the game, and the first touchdown of the game was scored by Bill Lackner on a fourth and goal. Exceptional plays were made by John Rauseo and Alec Nelson, who have scored multiple times throughout the playoffs.  Touchdowns were capped off by the team's "extra point specialist" Chris Magill, who is known for helping Win or Lose We All Booze gain a few points once the team has a lead in the game.
In the end, the higher seed, Win or Lose We All Booze, continued its hot streak with a shutout, 20-0. The team looks to be a tough competitor coming into the finals, as it has not allowed a single point throughout the playoffs.
Save the Receipt and Win or Lose We All Booze will compete for the championship on Friday, Oct. 31 at 4 p.m.
Anyone interested in learning how to play tennis or improve his or her skills can come join Campus Recreation for a free tennis lesson and tournament. There will be instruction for all skill levels and equipment is provided to participants.
The tennis tournament and free lesson that was previously planned for September 13th has been rescheduled for Sunday. Onsite registration begins at 4:30 p.m. and play is from 5 to 7 p.m. in the Romney Field House.
Campus Recreation also offers open recreation for badminton and pickleball the remainder of the fall semester. Interested students can come out Tuesdays 4 to 5:30 p.m., now through November 18.
For more information about Campus Recreation programs, building and pool hours, visit oswego.edu/campusrec or call Lee Hall at (315) 312-3114.