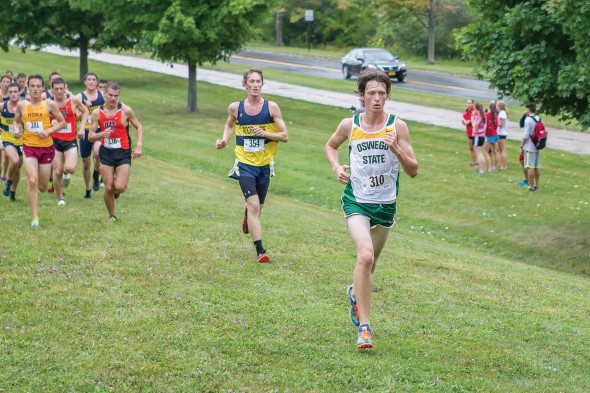 Coming into the 2014 season, the Oswego State men's cross country team gained many freshman runners. Usually it takes a year or two for a new runner to make the transition from high school cross country to college, especially with the added on two miles. This year is a little different, as the Lakers have had very strong performances from its freshman runners.
Starting off with the first race of the year, one could tell it was going to be a special year and one for the books. In that first race at the 8th annual SUNYIT Invitational, freshman Justin Sommer from Massapequa, N.Y., Colin Greenseich from Cicero, N.Y., Tom Kolankiewicz from Rochester, N.Y. and Kyle Pollicove from Whitesboro, N.Y. made immediate impacts and all finished within the top 27 in the race and the top seven on the team, including a 9th place finish by Greenseich, and a third place finish by Sommer.
This success would continue in to the next race, the annual Don Masterson Invitational where again Sommer, Greenseich, Kolankiewicz and Pollicove all finished in the top 47 of the race and top seven on the team. In almost every race this year they have consistently finished within the top seven of the team.
At the Harry F. Anderson Invitational at Roberts Wesleyan College, Sommer finished in first place on the team and 22nd in the race with Greenseich right behind him in 26th. Kolankiewicz continued his consistency of finishing at the top of the team by finishing in 76th place. Kyle Pollicove continued his great season as well, finishing in 91st place.
At the Lafayette Leopard Invitational both Greenseich and Sommer finished in the top 20, in 13th and 19th place respectively. Kolankiewicz finished in 33rd place with Pollicove right behind him in 36th.
Head coach of the cross country team Stephanie Grimm has been very happy with the performances by the freshman runners.
"It's typically not the case that your freshmen make an immediate impact," Grimm said. "It's a big transition from the 5k race to the 8k race in the training, and what goes along with that."
Going from the regular 5k (3.1 miles) race in high school to the 8k race (5 miles) can be a big transition, especially in how one races. Greenseich and Sommer have taken this transition in stride.
"It's a totally different race. It's a little bit longer, and you have to be a little bit more patient, and you have to think a little more of where you're at," Sommer said.
"I like it better because I'm better at longer distances, but it is definitely a challenge doing longer distances because I would go out too fast at the beginning of races, and I'm still working on it."
With the SUNYAC Championships, and NCAA Atlantic Regional race just around the corner, the team will look to its freshman runners for excellent performances.
"What we're looking at is a freshman comparison, to the other freshmen and trying to get them to look at being the top five freshmen in the conference, which is where I think they're at right now. They'll play a large role for SUNYAC and Regionals," Grimm said.
Both Sommer and Greenseich are having exceptional performances this year and are excited for what the future brings.
"I'm pleased with performances so far but there is always room for success and room to do better. It's nice to be in the top five, and be able to come in first year and be in the top five help out the team," Sommer said.
Greenseich also expressed how excited he is about the future.
"It's nice. I like it a lot. It's fun to feel like I have a huge impact on this team already, and I can't wait to see how far this team can go in the coming years, if I'm already doing this well, I feel like we can get a lot better," Greenseich said.
Greenseich, Pollicove, Sommer and Kolankiewicz have all had a personal best of at least 27:55 in an 8k Race.
With the SUNYAC Championships coming up on Nov. 1 and the NCAA Atlantic Regonials coming up on Nov. 15, both Grimm and the Oswego State men's cross country team are excited to see what the future will bring especially with a strong young team made up of 10 freshmen and sophomores. With the way this season has been going, that future looks very bright for years to come.