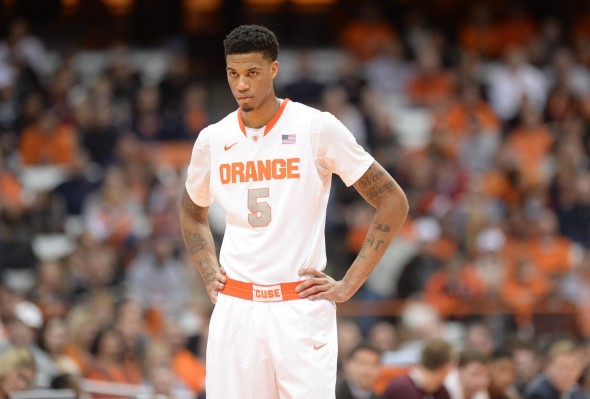 Now that the NCAA Men's Basketball Tournament is in the books, schools can look forward to their star players leaving early for the NBA.
On April 2, Yahoo Sports' Adrian Wojnarowski reported that Syracuse's talented freshman forward Chris McCullough had decided to enter his name in the NBA draft. McCullough hasn't played since Jan. 11, when he suffered a season-ending knee injury against Florida State.
This comes as a surprise, as Wojnarowski reported NBA executives have him going in the late second round. McCullough averaged 9.3 points per game, in addition to 6.9 rebounds.
These numbers hardly jump out as being NBA star caliber, however according to Wojnarowski, McCullough said he is confident in his abilities and will come back from injury ready to make an impact. McCullough is the latest student-athlete to succumb to a recent trend throughout college basketball that sees its most prominent players forgo their remaining years in favor of playing in the NBA.
Ever since 2005, when a new NBA collective bargaining agreement made it so players under the age of 19 couldn't enter the NBA draft, according to USA Today, college basketball has seen a growing number of one-and-done athletes in Div. I. Some have gone as far as to announce their intentions to be one-and-dones before they enter college—Andrew Wiggins being a prime example.
Because of this, the college game suffers in the execution of fundamentals, primarily on the offensive side of the ball. According to NBC Sports, head coach of the Connecticut women's basketball team Geno Auriemma said in a recent press conference that the men's college game "is a joke."
"The bottom line is that nobody can score, and they'll tell you it's because of great defense, great scouting, a lot of team work, nonsense, nonsense," Auriemma said. "College men's basketball is so far behind the times it's unbelievable."
In addition to fundamentals taking a back seat, teams also look drastically different from year to year, making it difficult for fans to follow and get to know who is on their school's team. During the '70s, '80s and '90s, players typically stayed for three or all four years, which created fiercer in-conference rivalries that lasted well into their NBA careers. Case in point, Larry Bird and Magic Johnson.
Not only does players leaving early have a negative effect on the college game, the NBA experiences the plight as well. Due to players leaving college early who aren't quite ready, NBA teams waste picks in the draft on players based strictly on potential who end up tanking later in their careers, or not living up to their potential. This can either be because of lack of talent or injury. A few names to consider in this case are Greg Oden, Michael Beasley, Evan Turner and Syracuse's own Donte Greene, among many others.
To mend this issue, the NBA should look at how Major League Baseball allows its players to be eligible for the draft. The current format for the MLB is high school graduates are allowed to enter the draft if they haven't yet played in college, while if they had attended college, players must complete at least their junior year, according to mlb.com.
If the NBA adopted a similar path, the game would see a vast improvement in the quality of play because players who want to attend college would be on the floor with players of comparable skill. The NBA would also see enhancement in play after adding players who are more developed.
For now, however, the number one pick in the draft is likely to be one who needs a number of years before they can make a significant impact.