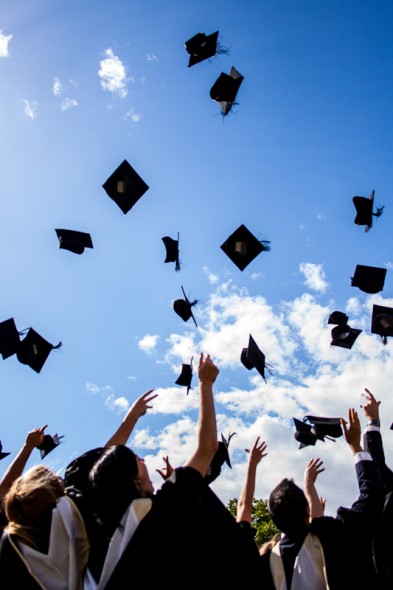 With the end of the school year looming, so too is commencement for seniors. What is Oswego State's last gift to those who have successfully completed their degree? Making them pay another $87, before tax, for a cap and gown.
Being a senior this year, after transferring here as a junior, I am already dreading having to leave a school that I enjoy and one that I feel as though I barely got to know. To make matters worse, I now know that I will have to pay an additional $87 for a cap and gown that I will wear once for however long it takes for the commencement ceremony; otherwise, I won't be able to take part in the ceremony. Not to mention, students who have earned academic achievements are expected to pay more to wear honorary chords.
With all of the fees students are issued before they can attend the university, one would think a cap and gown would be included on that list for seniors who plan on graduating so it doesn't hit us out of nowhere just weeks before graduation. According to Oswego State's official website, students pay around $75 a year for Resnet on campus, similar to what a cap and gown costs. While this fee may be overpriced, at least it isn't given to us so close to the end of the school year.
However, the fact that we have to pay this much for something we will wear once is a bit condescending. We already pay nearly $11,000 a year to attend the university. While this may not be much compared to private institutions such as Syracuse University, which charges its students north of $60,000 a year after housing rates are added, according to Syracuse University's official website, it would be more reasonable to have students pay a lower rate for their graduation attire.
The Marano Campus Center hosted a "Grad Finale" on Tuesday, which was posted on the school's website on a number of different pages prior to the engagement. Usually, an announcement like this comes with details such as the price, but this was not the case.
To gain the knowledge of the price ahead of time, I had to call the college store and inquire about it. Had I not taken this initiative, I would have been forced to fork over more money on the spot than I originally planned.
No one ever said college would be cheap, but the least that could be done to reduce those costs is to spare students who worked hard to make it to graduation from overpaying for the attire that is meant to symbolize their academic success.