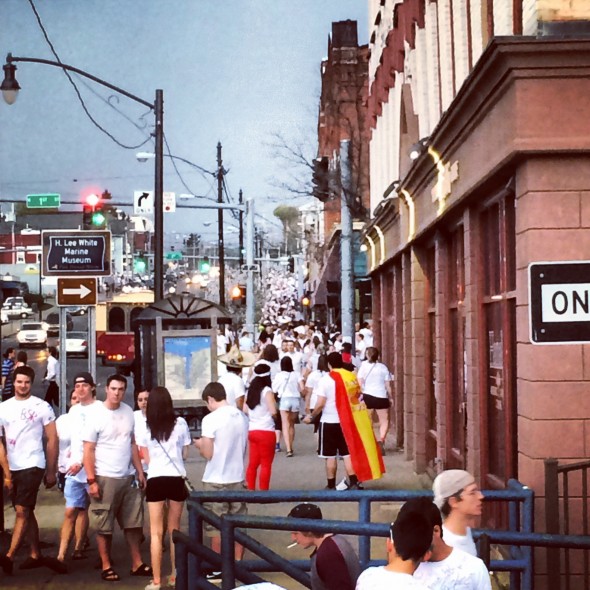 After three Oswego State student drug overdoses, one of which resulted in a  death last year, Oswego State and Oswego city officials have been working together to prepare to handle this year's annual bar crawl event, Bridge Street Run.
Less than a month from now, a large influx of 21-and-over bar crawlers will be participating in this unofficial tradition.
"Everybody that has been in Oswego realized that the campus has a great sense of celebration and so does the city," Oswego City Mayor Thomas Gillen said.
While many students anticipate the annual bar crawl to be filled with excitement and big crowds, the incidents that occurred last year prompted a collaborative effort between the City of Oswego, the Oswego City Police Department, Oswego State and local businesses to manage this year's celebration.
"It's not just a city issue," Gillen said. "It's now a community issue. We are going to do it together. We're going to do it productively so the students have fun and local merchants get some business at the sametime, and people can celebrate."
Jordan Harmon is the assistant manager of The Shed in Oswego. He said he agreed with the mayor and said The Shed has been working with all parties to make BSR fun and safe.
"The [New York State] Liquor Authority will be making a presence in this area and will be checking if our exits are clear, if we are serving the proper types of liquors, types of beers, appropriate prices, making sure that everyone is above age," Harmon said.
Harmon stressed that The Shed has a zero tolerance policy for fake IDs.  The Shed will always ask for two forms of identification at the door, and double ID when customers order drinks. Harmon explained that fake IDs from out of state are very common during BSR because many students who are underage want to participate.
"We have ways to make sure that people that are actually 21 and from out of state are actually going to be able to drink," Harmon said. "We have certain questions that we ask them. We have wristbands. We have stamps. We have all sorts of stuff and our bartenders always ID."
Tucker Sholtes, the former Oswego State Student Association president, is one of many students who helped organize Ozfest and the spring concert that will feature B.o.B, Mac Miller, Big Sean and Timeflies. Sholtes explained Ozfest as "a way of the student body to have ownership over the end of the year celebration."
Sholtes also said a big concert has been something that students wanted, and having it on the last day of class is a great way to celebrate.
"A huge misconception about this is that people think that we're trying to make an alternative to Bridge Street Run, which I guess, in a way, it's true, but I think it's more about how can we own the day instead of letting the day be in the hands of others," Sholtes said. "The college wanted something to be on that last day and then it was a decision that also was made by myself and others… why don't we all move the concert to be then?"
Last year's events resulted in an unstable relationship between the college and the city, but Gillen sent out a press release last Tuesday, commending Oswego State's efforts to change the way the end of the year is celebrated.
"This year, the city of Oswego fully supports SUNY Oswego's efforts to redirect the celebratory atmosphere by presenting the SUNY Oswego Ozfest on Friday, May 8, 2015," Gillen said. "Our hope is that, by working together, we can develop this event into a dynamic and fun weekend that will take advantage of all that Oswego has to offer, while providing the structure and oversight necessary to help reduce the problem behaviors of years past."
Eric Van Buren, president of the Oswego City Common Council, also expressed his satisfaction with the way this year's event will be handled. After last year's incidents, the council voted to ban BSR, merely to emphasize that the city did not endorse the event.
"The collaboration between our police department and the college is a very promising sign of future partnerships between the college and the city," Van Buren said. "I thank both Oswego City Police Chief [Tory] DeCaire and University Police Chief [John] Rossi for their efforts in aiding the public with regard to this issue and SUNY Oswego President Stanley for her attention to this matter."
Despite the efforts, many students such as Dana Farris, a junior, believed that having the concert on the same day as BSR would be a useless effort to deter students from the bar crawl because the concert starts at 7:30 p.m. and many will participate in the event around the clock.
"I can see people going to BSR before, then going [to the concert] after, so there doesn't seem to be much of a point," Farris said.
Sholtes mentioned that the college is prepared for such things to happen.
"Regardless of when the concert is, you are going to have an individual that decides to drink before it," Sholtes said. "We'd rather have some of those individuals on campus in a controlled environment where we can make sure things aren't getting out of control."
As of April 7, Oswego State has sold 1,606 spring concert tickets. This is a 133 percent increase from last year's concert, according to Sholtes.  Harmon believed the amount of tickets sold would not affect The Shed's revenue on BSR.
"I honestly think it won't make a difference one bit at all," Harmon said.  "People still want to drink, whether 1,500 tickets or 10,000 tickets [are] sold it won't affect our numbers. We have people coming in from everywhere."
According to Gillen, The Oswego City Police Department will have extra officers on-duty being supplemented by law enforcement officers from outside agencies. Officers will be assigned to various details including marked and unmarked police vehicle patrol, foot patrol, ATV patrols and dedicated neighborhood patrols specifically assigned to target loud or disruptive parties.