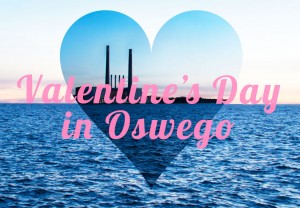 Have a date this Valentine's Day and don't want to go far to treat them well? Look no further than the city of Oswego! No matter what your budget or what kind of date you want to go on, Oswego has something for you.
If you're looking for something low-key, Cam's Pizzeria on 31 W. Bridge St. is serving up heart-shaped pizzas for the occasion. It's open on Saturday from 8 a.m. to 3 a.m. You can even order online and have it delivered for the easiest Valentine's Day celebration ever.
For the classic dinner-and-a-movie date, there are plenty of wonderful, mid-priced restaurants in town such as Press Box (29 E. 1st St), Azteca Mexican Grill (53 E. Bridge St.) and Red Sun (209 W. 1st St). The big movies showing this Saturday at Oswego 7 Cinemas, located at 138 W. 2nd St., are "American Sniper," "Fifty Shades of Grey" and "Jupiter Ascending," each of which will cast a very different mood over your date, so choose wisely!
The Coffee Connection is perfect for a casual coffee date. The shop is across from Old City Hall on 148 Water St. Its individual and innovative drink flavors go far outside the standard coffee-shop realm of caramel, mocha and hazelnut and all the delicious baked goods it sells are homemade. There is also a lovely room upstairs that has cozy chairs, tables and couches where you can sit and talk to your sweetheart for as long as you want—as long as it's from 10 a.m. to 9 p.m.
Finally, if you're really trying to impress your date with a classy night on the town, Bistro 197, located in the Canal Commons at 197 W. 1st St., is the place for you. You and your valentine can get drinks at the sleek bar, such as a selection from the Seven Deadly Sins martini series, or have a real sit-down dinner. Prices are higher than most college students normally shell out for, but the food is a whole lot nicer too. An extra draw is that singer Dave Hawthorn will be performing live on Saturday at 7 p.m., and the Bistro is open until 9 p.m.
Of course, if you're in the typical financial position of a college student (broke) or you don't feel like braving the arctic, you can always spend Valentine's Day inside with your special someone watching Netflix and drinking cocoa as the snow piles up outside. All you really need for a good Valentine's Day date is good company.