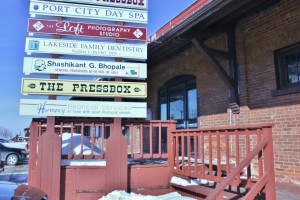 Before going to The Press Box I had heard many good reviews from other students and friends, which made me eager and excited to try and review the restaurant.
From the moment I walked in the door, I was impressed. On a Saturday, during busy dinner hours, I was not expecting to be seated immediately. But as soon as we set foot into the cozy two-floor sports bar and restaurant we were seated.
The atmosphere at The Press Box is unlike many of the other sports bars in Oswego. The high ceilings and loft for extra seating make the room feel large. But, the restaurant also has a homey atmosphere with carpeted floors. The pictures of sports teams, players, and old newspaper articles hanging on the walls give the restaurant its sports themed design. But, my favorite part of the environment is the ongoing fireplace, which kept us warm during the meal.
The day I went, the bar was packed with basketball fans watching the Duke vs. Boston College game on massive TVs posted up around the restaurant and behind the bar. Some customers were watching TVs that played other basketball and hockey games, giving every customer the ability to watch what game they came for.
Right after we were seated, the waitress came up to our table with menus and asked us for our drink orders. Many of the waitresses on staff appeared to be of college age, making the environment welcoming for students. The staff were all friendly and always around incase a refill was needed.
The food came quickly and nothing was a disappointment. The appetizers were a delicious way to start off our dinner and the portions were more than enough to hold us over until the entrees were served. Our group of four shared buffalo chicken dip and nachos. The entrees menu had lots to choose from as well, making it a hard choice between pizzas, sandwiches, and wraps. But my entire group all decided on the Press Box Burger, a burger topped with American cheese, sautéed onions, lettuce and tomato. Since we cleaned each appetizer plate, we were too stuffed to finish off our Press Box Burgers.
The waitresses were more than happy to wrap our leftovers for us, giving us all a snack for later. For the quality food we ordered, we were happy with the bill; it was very affordable for a college student's budget.