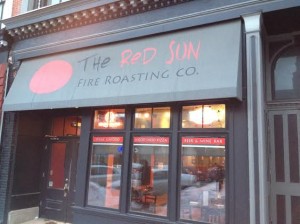 Taxi or bus? That was the question as my two friends and I were preparing to go to The Red Sun Fire Roasting Co. a couple of nights ago. We ended up choosing the bus, so by the end of the night we would have enough cash to get dessert.
As we walked through the doors of The Red Sun, we were met with a dining room full of people. As the waitress walked over to us, she gave us all a funny look, initially to our confusion. But once we sat down we looked around and realized we were underdressed.
Everyone around us was wearing nice sweaters and dress shirts.  My roommate was wearing a T-shirt, sweatpants, and Mardi Gras beads. Because of our too-casual attire, I felt like people in the restaurant were definitely judging us.
Once we got over the embarrassment of our clothing choices, we looked around and admired The Red Sun and all of its scenery. The orange and green walls with a little bit of artwork reminded me of the side wall of Port City Cafe, which is attached to The Red Sun. The hanging and stage lights in the room created a classy and relaxing atmosphere. They also have a nice little bar area right by the entrance, and a chalkboard that gives you all the lunch, wine, and dinner specials.
As it came time to order our food, I realized how high my expectations were for The Red Sun's food. Everyone I have talked to has recommended The Red Sun, claiming it has the best food in all of Oswego. So my two friends and I carefully selected our dinner choices.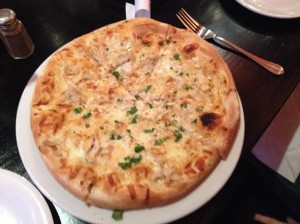 One of my friends and I both ordered the barbecue chicken pizza to share, because others that we have spoken to have raved about the pizza and we figured we should put that claim to the test. My roommate ordered the red sun burger, which is just ground Angus beef on a pretzel bun. Less than twenty minutes later we all had our food; I did not expect to have it that quickly because of how busy the restaurant looked.
The pizza ended up being amazing, and between the two of us we finished it all. My roommate said she enjoyed the burger, but would not order it again because she discovered that she is not the biggest fan of the pretzel bun.
For other dinner options, The Red Sun offers nine other different kinds of pizza that you can order, including the New Yorker, Hawaiian, and baked potato. Mains like stuffed chicken and lasagna bolognese are also offered on the menu, along with different starters, salads, and burgers & sandwiches.
Even though the individual entrees are a bit on the pricey side, I would highly recommend splitting a pizza with someone. The Red Sun's pizzas range from $9-13 and if you split that in half I think that's pretty affordable for a meal. The overall dinner prices range from a $3 small house salad to a $24 NY strip steak.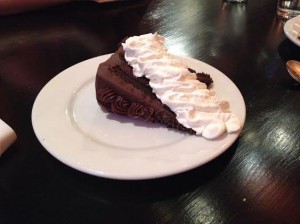 For dessert the three of us shared a slice of chocolate cake, appropriately called death by chocolate cake. It  turned out to be delicious; I mean it was chocolate cake, and you can not go wrong with chocolate cake. We left The Red Sun satisfied with the meal that we had, wishing that we had just another pizza with barbecue sauce and chicken on it to so that our taste buds could relive the adventure.
My only complaint of the night is that I feel like our waitress wanted us out of the restaurant as quick as possible, presumably because we were so underdressed. From the second we sat down she did not treat us the same as she did other customers. She did not introduce herself to us at the beginning when we were first seated, and she was more friendly and willing to engage in conversation with anyone other than us. Can we really complain though? We were highly underdressed, after all.
So if you are looking for a classy place to eat, or fantastic pizza on any night of the week (except for Sundays), make sure you visit 209 W. 1st St, Monday-Friday 11:30-2:30 p.m., 4:30-9 p.m. or Saturday 11:30-9 p.m. And make sure you're dressed for the occasion.