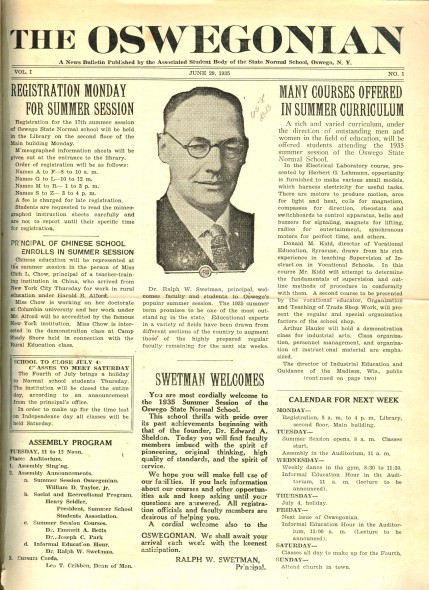 This year marks the 80th anniversary of the birth of The Oswegonian. Since 1935, Oswego State's independent newspaper has provided coverage of the campus and surrounding community.
This semester, we want to recognize the past 80 years of journalism produced at the hands of students. In our office, we have bound books full of past issues of The Oswegonian, including from the very first issue on June 29, 1935.
Jack Quigg was the only member of the editorial staff for that first issue. The newspaper began during the summer session and was published by the Associated Student Body of the Oswego Normal School, as the teaching school would not become a degree-granting college until 1942. Just as it is today, the first volume of The Oswegonian was published each Friday morning. Members of the first staff came from a newswriting class, as well as students who were not in the class.
The main objective of The Oswegonian was  "to present the news of the school, serve as a bulletin, bring in a wider knowledge of the school as a whole to all the students and greater recognition of the achievements of those connected with the school, either as students or faculty." As a premier student media organization, we still hold true to these original goals.
Now, in 2015 the circulation of The Oswegonian has reached 3,500 copies, spread throughout campus and the city of Oswego. Our staff has a total of 22 students and a number of reporters who write on a weekly basis. In a time where "newspapers are dying," it's nice seeing the transition of The Oswegonian into the digital age, hopefully something Quigg and other founding members would be proud to see today.
In the article introducing The Oswegonian, it was envisioned by the members that the newspaper would expand and grow beyond its four pages. "Although the paper begins as a small weekly news bulletin it may be expanded during the regular session of the Normal school by an increase in the number of pages or an increase in the size of each page."
Not only has The Oswegonian changed in page size, but we now publish a weekly paper with four sections totalling 20 pages. We also have an extensive website with two additional sections exclusive to the Internet. We've seen the likes of Steve Levy, Jay Beberman, John Kucko, Ryan Deffenbaugh and many more put words on our pages and in the future more will contribute to the living history of Oswego.
So what does the future hold for The Oswegonian? Hopefully 20 years from now future members of the newspaper will look back and reflect on the milestone they've reached. Until then, we'll stay dedicated to serving the student body of Oswego State.