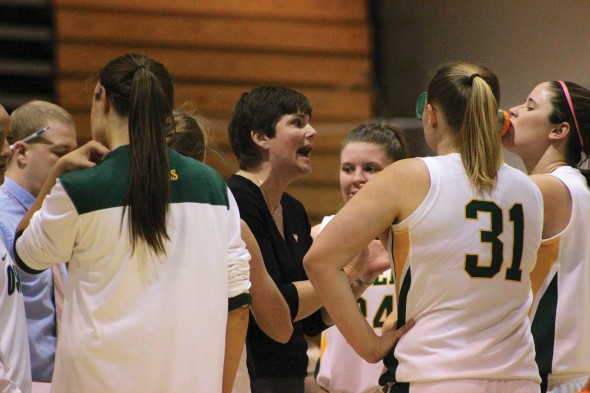 With winter quickly approaching, so is the Oswego State women's basketball season.
Oswego State opens up the season with its home basketball tournament on Nov. 15 at 6:30 p.m. in Max Ziel Gymnasium.
Led by head coach Tracy Bruno in her 7th season, the Lakers look to improve from last year and continue their success. They return their second-leading scorer from last season junior Heather Herbert, who was also their leading rebounder from last season. Herbert was also 15th in the SUNYAC in scoring and 7th in rebounding.
Oswego State lost its leading scorer from last year Jen Robbins. Robbins averaged 17.6 points per game.
The Lakers are coming off of a 6-19 season, including a 2-16 record in the SUNYAC. They started off 3-0 last season, winning the Max Zeil Tournament. The Lakers also posted a 6-7 record at home, continuing their impressive performances at home over the past few years.
Last season in the SUNYAC, Oswego State finished 3rd in field goal percentage, and fourth in three-point shooting percentage. They were also fourth in three-point field goals made.
The players have set goals for this upcoming season.
"We're a young team, so we've been working a lot on defense and staying together as a team," sophomore Allison Nunziato said.
Bruno has also set goals for this season.
"This season is a step by step process. There's no question we have talent, and our biggest challenge is experience, and the only thing that can change experience is playing," Bruno said. "So our goals are to get better every time we step on the floor, and we're doing a nice job of challenging each other in practice, so we need to continue on that."
Oswego State's biggest challenge is experience because of a young roster heading into this season made up of six freshmen. Guard Courtney Ameele, forward Lindsay Johnson, Forward Zana Dillard, Guard Alisha Jacobs, Forward Eryn Cameron and 6'2 forward Rachael Windhausen are all newcomers to the roster.
Oswego State also has three juniors and seniors as well, which will help the team with leadership and experience, and gives a boost to the team.
"It's huge. Our captains have done a great job, Lexi Gillard is our senior and she has done a great job and our two juniors," Bruno said. "Heather and Tayler have done a great job from the beginning with a combination of lead by example and goal leaders and we did that by design to pick a group to make sure they play hard on the floor, but to make sure they weren't afraid to step up and say something."
The Lakers will open up their season this weekend with the annual Max Zeil women's basketball tournament. The Bay Path Wildcats and the Fighting Tigers of SUNY Cobleskill will be the first game of the tournament at 2 p.m. on Saturday, followed by Oswego State and the D'Youville Spartans at 6:30 p.m. on day one.
Bay Path College is located in Holyoke, Massachusetts and is in the New England Collegiate Conference. SUNY Cobleskill is in the SUNYAC Conference, along with Oswego State.
D'Youville College is located just down the road in Buffalo, N.Y. The Spartans are in the The Allegheny Mountain Collegiate Conference. They finished 11-15 last season, losing in the first round of the AMCC tournament.
Two years ago in the Max Zeil Tournament, Oswego State defeated D'Youville, 66-39. During the 2010-2011 season Oswego State also beat D'Youville in the Max Zeil Tournament, 68-53.
In the same year, the Lakers defeated SUNY Cobleskill, 67-55. Oswego State is 10-1 since the 2009-2010 season in their home tournament.
The winning team of both games will play in the championship game on Sunday at 4:30 p.m. The losing teams will play in the consolation game on Sunday at 12:00 p.m.
Bruno said having a home tournament is important to the team, but especially to the freshmen and younger players.
"I think that playing in front of your home crowd and playing on your home floor, being able to sleep in your own bed, especially with a young team, I think all of those things are really important," Bruno said. "I think that we play some good competition in the tournament, so it will be a good opportunity to see where we're at right away. Being able to play at home is really important with a young group and is really important and it will be exciting. We have a string of winning the tournament, so our goal is to defend that."
The Lakers do not play their first SUNYAC game until Dec. 5 against SUNY Fredonia. Oswego State split with the Blue Devils last year, winning their first game, 73-60, and losing in their second meeting, 89-78.