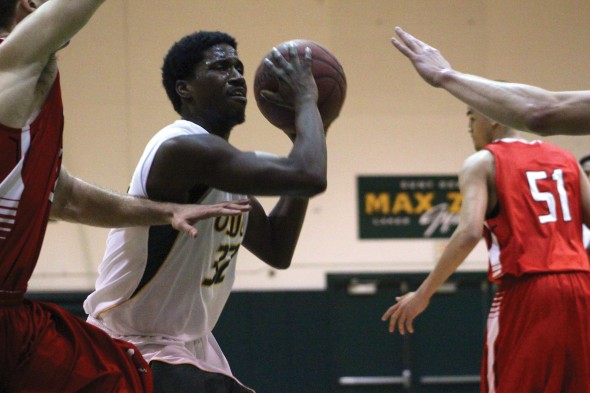 The Oswego State men's basketball team is looking forward to the upcoming campaign. The Lakers get their season started this weekend, but they have their eyes set on long-term success as well.
Oswego State will go into the season as young squad with some new members. The team has welcomed four new players, three of which are freshmen and the other a transfer. Alongside them, five sophomores who are entering their 2nd seasons with the Lakers will look to continue contributing to the squad that made a playoff appearance in the SUNYAC tournament last year.
Despite the youth on the squad, there is one senior remaining on the team. That is Rashawn Powell, who has played his entire four-year tenure as a student athlete as a member of the Lakers' basketball team. He was the third-highest scorer on the team last season, averaging 11.6 points per game on the year. He knows he has to be the one that the youth looks to this season, and he plans to lead by example.
"We're very excited about our season. We're looking forward to taking it one game at a time," Powell said. "I first have to set an example for my teammates. I've got to stay level headed when things get tough and just set the right examples for my team."
He believes that playing smart is the most effective method when trying to lead by example.
"Just go at it every day just doing the right thing and limit my mistakes, things like that," Powell said.
Powell also had thoughts about his head coach throughout his entire tenure on the squad, Jason Leone.
"He's a great coach. He knows exactly what he's talking about when it comes to preparing us for the games and various situations. I have a lot of confidence in coach Leone," Powell said.
Powell also sees the potential on this young squad, and said to look out for the team once everyone is back at 100 percent and raring to go. He also acknowledges the skill sets that these individual players bring, and looks forward to seeing them help the team throughout the season.
"We have a great group of incoming freshmen and transfers. As soon as everybody gets healthy, we've got this kid Justin Cooper who's unfortunate with a broken foot, but as soon as he's healthy he is going to be good, and Dustin is pretty good, he'll give us plenty of chances, and both Luis and Ian are great shooters," Powell said.
He is referring to the freshman trio of Cooper, Louis Avellino and Ian Schupp, as well as sophomore transfer student, Dustin Pond. With the new talent coming in, he is confident that the team will get through the rough injury bug that has hit the team before the first tip off of the season.
"As a group, we're just not trying to think about the injuries, because we have a lot of players who will do a lot of things so it's an opportunity for players who aren't injured to step in and get some playing times," Powell said.
As a senior, Powell has also set his own goals. But his goals have to deal with the concept of the team as a whole, a selflessness that was instilled in him greatly in his time under Leone.
"My goals, as a senior, are for my team to win as many games as possible, try to win SUNYACs and get to the NCAA Tournament, try to get as far as possible," Powell said.
Another member of the team that is looking to make an impact after a solid freshman campaign is Keith Tyson, who was the 5th leading scorer last year. He spoke of the team that is currently dealing with some adversary in the form of injuries, but sees the team growing as others have come up and not missed a beat. He is looking ahead positively to what the new campaign and his second full season as a Laker will bring. He sees the team becoming closer as the season approaches as well.
"We've been playing with a couple of injuries, but we've had a lot of people step up. It's going to be a great season and I'm looking forward to it. It's going to be fun, we're going to be closer, a close knit team," Tyson said
Tyson said he has noticed a change in not only the team, but within himself as a basketball player in the lead up to the season. He feels he has grown as an athlete on the court.
"You mature a little bit," Tyson said, "The game slows down. You're able to think more basketball instead of just going out there looking to score."
Tyson says that the game becomes more about the team as one grows as a player, and he notices that is what has happened to him and the rest of the squad as they prep for opening weekend.
"Its more basketball, more about the team. Everybody looks out for each other, and everyone wants everyone else to do well."
He also spoke greatly of his coach. Like many of the players, they praise him for doing things in what they feel is the right way.
"He's helped me a lot, he's very patient he teaches things so that you know it. He teaches you not until you get it right, but until you don't get it wrong," Tyson said.
Tyson wants the team to give it their all, all the time, every game. He expects no less of them this season.
"Just to do as good as we can every game. Leave everything out there, not leave any regrets," Tyson said.
He notices the importance of playing a role on the team, and sees himself as something bigger, which is this team and its goals.
"I feel my main role is just to help the team, with things like rebounds which is one of my main strengths, scoring as well, but mainly become a better team player to distribute the ball and start to do everything," Tyson said.
Tyson credits his teammates and all they have done for him, including Powell.
"They've helped me a lot, senior Ray especially has helped me a lot. He's taught me it's a long season and that I should take care of myself," Tyson said.
The Lakers will start off the season playing in the Max Ziel Tournament, where they will take on Elmira College and Hartwick College. Afterward they will play some out of conference games before they take on a pair of SUNYAC opponents at home in SUNY Fredonia and Buffalo State. Teams who they beat comfortably at home last season, but played very tight-knit games with on the road, including an overtime loss to Fredonia.
The Lakers will be looking to start off conference play well. After these important home games, they will spend a large chunk of the following two months on the road, playing only two home games against SUNY Onoenta and The College at Brockport. The match up against the Golden Eagles will be one the Lakers mark on their calendar as they were eliminated from the playoffs last year at the hands of the Golden Eagles.
From Jan. 1st onwards, the Lakers' entire schedule will consist of SUNYAC opponents. They will be hosting five of the nine match ups, including four of the last five games of the regular season. A key match up and perhaps the most anticipated, will be on Feb. 14 against SUNY Plattsburgh, whom the Lakers split the season series with last season.
Leone feels the team has had a great off season and sees the team has improved a lot compared from last year.
"I feel the kids came into the season in much better physical condition than last year," Leone said. "We have a lot of capable guys in the program."
Leone said he coaches all his teams the same way and sets the same goals for all of them.
"I want to challenge our guys to be the toughest group and the most together group that they can be, I know how long our season is. If we progress in terms of our toughness and our conditioning and being the most together team every night we go out on the floor, then we give ourselves a chance with the talent to do its part as well," Leone said, "There are a lot of groups that are really gifted, especially in our conference, but if you don't do the intangible things, the talent doesn't mean anything."
The Lakers kick off their season in the Max Ziel Tournament Saturday at 8:30 p.m. against Elmira College.