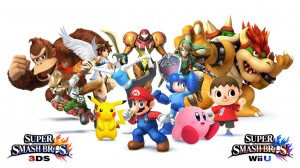 Since its initial debut in 1999 on the Nintendo 64, Super Smash Bros. has seen one popular entry after another. From the N64 to the GameCube to the Wii, the pace has yet to slow down as Nintendo rounds up its veterans for another generation of smashing entertainment.
Arguably one of the most popular franchises since its inception, Super Smash Bros., a series of crossover fighting games, has returned for another Smash Run. Super Smash Bros. for Nintendo 3DS brings the series to its fourth iteration, and for the first time on a portable console. Announced during E3 2011 by director Masahiro Sakurai for Nintendo 3DS and Nintendo Wii U, developed by Sora Ltd. and Bandai Namco, and finally making its debut, Super Smash Bros. exceedS all expectations.
Super Smash Bros 3DS renews the fun, the nostalgia and the memories associated with Brawl and Melee, and adds to it, bringing back returning favorites to the roster, and some new faces. This time around, the game brings about a whopping 51 playable characters to the list.
A rather large amount and a huge improvement from Brawl's total of 39 and Melee's 26. Despite that, aside from three, all of the characters have their own unique play styles specifically for them and for those who take the time to learn how they work. From Punch-Out's short-stacked veteran Little Mac, to the goddess of Super Mario Galaxy, Rosalina, to Animal Crossing's Villager, the characters this time around are as wacky and odd as they've always been, and these newcomers fit in quite well.
Next, we have visuals. For starters, this is the first time the franchise makes the transition from home console to portable, however, it works out well with Smash 3DS; easily recreating the aesthetic and visual feel of the last two titles with a brand-new art style that chooses to retain a cartoony and more colorful flair that easily distinguishes Smash 3DS from its predecessors; a superb decision.
With such gorgeous visuals, the only actual downside are the small screens on the 3DS; one would be able to fully appreciate the work and detail put into the designs of the characters and stages if not for the small display. If you have yet to purchase a Nintendo 3DS, be sure to buy the "XL" variation to enjoy this game to its full capacity.
Finally, the controls: The transition from home console to portable turned out well, as Super Smash Bros. 3DS still maintains most of the basic controls at the expense of the C-Stick most people are familiar with. For those not familiar, the C-stick was the yellow analog stick on a GameCube controller that one would use to perform Smash attacks.
While for Melee (and possibly Brawl vets), this may deter from the fun of the game, the controls on 3DS can easily be adjusted and, with a little playtime, can just as easily be learned. Going into the options menu will offer an array of different control methods.
Super Smash Bros., as a series, is a love letter to Nintendo's greatest franchises, pitting them against each other in a bout that transcends time and space. Super Smash Bros for 3DS is a beautifully crafted game and you are guaranteed to have fun with it. With the Wii U version of this title to soon release, you have hundreds of potential hours of game play ahead of you.