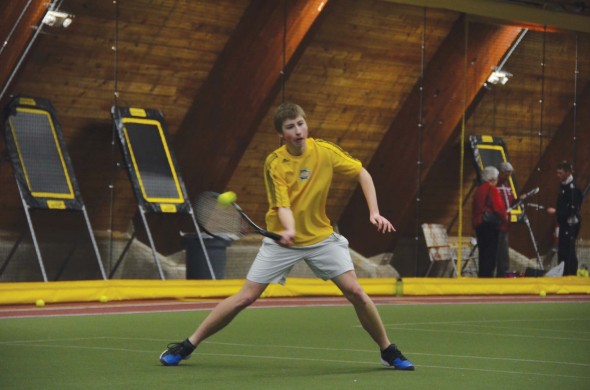 If you were to look at the Oswego State men's tennis roster. You would not recognize many names from last year. That is due to the fact that the 11-man roster, has a total of seven new players.
Last year felt like a transition year into a new era of Laker tennis, as the team finished 8-5 overall, the most wins the program has had in almost a decade. Last year's team also had many new players make big impacts throughout the season, while also having a plethora of seniors who led the way.
Now those seniors have graduated, and the new players from last year are stepping into some big shoes, like sophomores John Stanford and Spencer Thorn, the co-captains for this season.
Head coach Robert Friske gave his insight on what went into choosing his two co-captains.
"Well, you look for certain traits in leaders like performance ability, character and organization. They excel at all three of those," Friske said. "So they're natural leaders, and to help with the stability of the program I wanted to take advantage of their exceptionalism, instead of wait for it. And it's already helped make us a better team this year."
Stanford stated how he reacted when he found out that coach Friske honored him with one of the captain spots.
"I was excited, to say the least," Stanford said. "As a freshman, I didn't expect to do that much at all. I had plenty of opportunities and coach put a lot into me. He made me feel like working hard would get me places."
Thorn is excited to take on this new role and to lead the team with someone like Stanford, both of whom were up and coming freshmen last year.
"I think it's a great opportunity. Me and John, we complement each other's styles very well I think, so it provides for a solid basis for the team growing underneath us," Thorn said. "Which I'm very excited about because we have a lot of eager freshmen that are definitely working hard and willing to learn."
Those freshmen are needed with the amount of players leaving from last year. Friske looked back on previous years, where it was hard to have enough players for a match. This year, the entire roster is very solid.
"In years past we were putting signs up trying to attract people to just make a full roster. Now, with some stability over the last couple years, we're starting to get more people interested in the program and it's a sign of development of the tennis team," Friske said. "Now the team is all full of former captains and former No. 1's and it's a very talented group."
Six of the seven new players are freshmen, while the lone transfer is junior Alex McCarthy. In his first match on the team, he won at first singles (6-2, 6-2) in the Lakers 6-3 lost against Daemen College on Sunday, Sept. 14. The effort earned him the accolade of Oswego State Male Athlete of the Week, for the week ending on Sept. 14.
McCarthy was shocked by the getting the award, but also very excited to achieve the feat.
"It's a great honor. It was definitely a goal of mine to accomplish. I just didn't figure it would happen after one match," McCarthy said. "So it's kind of surprising, but definitely amazing."
McCarthy played at Cazenovia College last year. Friske commented on what made McCarthy come to Oswego State and how impressed he was with the great start he is having this early in the season.
"Couldn't be happier for him," Friske said. "They dropped the program at Caz and he wanted to continue playing and he also felt our business programs were exceptional. So he sought us out and joined us. It's great to get some transfers from some other teams. It doesn't happen much, but sometimes it works out and works out really well. So Alex has been a pleasant surprise. We knew he was good and he's fit himself in exceptionally well."
With the help of the new players, the co-captains Stanford and Thorn and the other two returning players, junior Justin D'Antonio and senior Tim Van Hine, the team is already coming together nicely.
"Everyone involved in the program right now has an excellent level of ability and competitive nature and they're all excellent men," Friske said. "So they're working together very well. Even though it's a small group, it's a focused group. They want each other to do well. So it's a very nurturing atmosphere."
For the team and its co-captains, it's all about getting better and building off the success they enjoyed last year.
"I feel as now watching and knowing what to expect and kind of having a little bit more experience under me. I know what I can succeed in," Stanford said. "I have my goals set for me and I know the best way to make my goals happen. So I'm definitely going to strive for a lot better starting position. But I would say the team this year is probably the most solid team I've ever seen. So its gonna be very difficult, but it's going to be a lot of fun."
The Lakers are 0-1, so far. Their next match is their home opener against Utica College on Wednesday, Oct. 1 at 3:30 p.m.