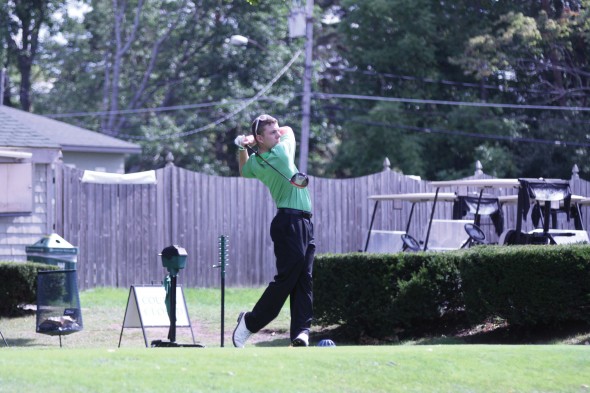 At the 17th Annual Oswego State Fall Invitational on Monday, the Oswego State men's golf team tied for second place with a score of 310 on their home course at Oswego Country Club.
SUNY Potsdam also finished with a 310, while SUNY Delhi took the top spot with a score of 299.
After finishing fifth at the St. Lawrence University Invitational and third at the SUNY Potsdam Fall Invitational, this is Oswego State's best finish in a tournament so far this season. The low round for the Lakers was posted by junior captain Dan North, who shot a two-over par 73, finishing second only to SUNY Potsdam's Conor Talty with a 72.
Head coach Mike Howard, now in his 20th year with the Oswego State golf team, said that although he was happy with his team's performance, they know they still had an opportunity to shoot even lower.
"I thought we played well, but we still left some shots out there," Howard said. "I'm sure if you talk to some of the guys they're a little disappointed that they could've gone a little bit lower, but overall it's an improvement."
Even North, whose 73 was the best round he has ever posted as a Laker, acknowledged the fact that there is always room for improvement, especially on the green.
"It could've been even better. It felt like an easy 73," North said. "I missed at least three 4 to 5 foot putts for par or birdie, so I could've been right there in first."
Other top finishers for Oswego State included senior Kyle Brockmann with a four-over 75, and junior Tyler Werzer with an 80. The Lakers also entered a second squad in the tournament led by senior Omari Howard's 75 and freshman Aaron Iddings with an 80. With some of the second team athletes playing that well, Howard admitted that the top five could be altered a little for the last few tournaments of the fall season.
"The nice thing about this team is we've got a little bit of depth," Howard said. "Omari Howard posted a 75, so he's right there in the mix, and we've changed it up a little bit since the first event."
One of the main areas in which Howard said his team could improve, as a whole, is course management. Slowing their thought process down, making better decisions and analyzing situations better will allow his guys to score much lower. Having better judgment out on the course is something that Brockmann reiterated too.
"I had one mistake on 13 that I misjudged," Brockmann said. "I didn't think enough on one shot and flew the green, put it in the creek and it cost me two shots."
Howard says that his goal for his team is to finish tournaments with a total score between 300 and 310. According to North, this is entirely possible for the Lakers to do in every tournament, if they can improve their consistency.
"We definitely have the talent to be really good," North said. "We should be between 300 and 310 every time we go out there, it's just about consistency and putting together good rounds every time."
The last two tournaments of the fall season are the Elmira Fall Invitational at Elmira Country Club and the Keuka Fall Invitational at Lakeside Country Club. After that remains just the ECAC Championships, and the athletes are looking forward to the challenge that all three of the tournaments present.
"We have some really good tournaments coming up," North said. "Elmira is really tough. It's a really nice course, but the greens are especially tough so putting will be key. Then ECAC's, and we really like that one, and it's two days for the conference so it'll be huge."
Yet, with the most challenging tournaments of the fall season ahead of them, Brockmann admits that he is still focused on having a good time in his last season with the team.
"The home tournament's out of the way, so now it's about having fun, keeping the team together and getting everyone going," Brockmann said. "We're all capable of going low. I mean, we had a few rounds of 75 and below yesterday, so I think we're all capable of getting there, if we stay focused for the remainder of the season."