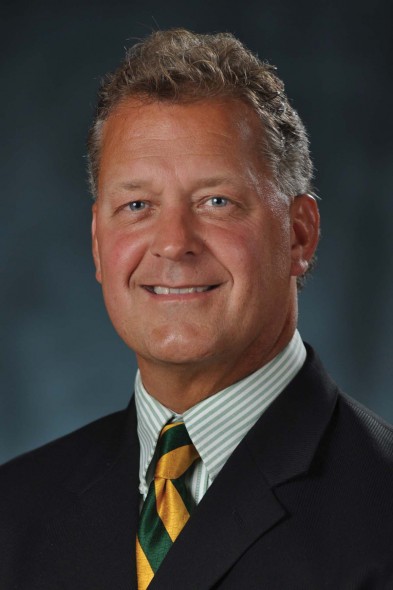 Since the beginning of his coaching career at Oswego State as an assistant under Don Unger in 1989, Ed Gosek has given back to USA Hockey by taking part in coaches talks.
Now entering his 11th season at the helm of the Laker men's ice hockey program, Gosek has also made many contributions to USA Hockey by helping train the next generation of coaches. He has joined other coaching experts at various talks and helped run coaching clinics for years, as well as helped run regional and developmental camps for youth hockey players.
This offseason, Gosek has done what he considers a longer list of speaking engagements. He spoke at a higher performance workshop for collegiate, junior and minor league coaches at the Division I Frozen Four in Philadelphia this past April, two clinics in Syracuse for USA Hockey coaches and a clinic for USA Hockey coaches in Jamesburg, N. J. as well. The events included six or seven different speakers, each speaking for just over an hour. In total, Gosek spoke to between 750 and 850 coaches.
The talks for USA Hockey, which Gosek usually attends, are for coaches at Level four, or seeking to reach level four. In order to coach minor or junior hockey in the USA Hockey organization, a coach must reach Level four certification. Gosek is Level five certified, a feat only about one coach across the country reaches per year and has served as the New York State Central Section Coaching Education Program's coordinator. In fact, he set up the first Level four clinic in the New York State Central Section and continues to run clinics for all levels across Upstate New York, and sometimes in the Midwest.
Over the years, he has earned honors from the organization for his dedication to their works. In 2008, the New York State Amateur Hockey Association, honored him, along with his volunteer goalie coach Pete Sears, as the recipient of the Peter Rush Award for selfless, long-term dedication to the growth of youth hockey. The following year, Gosek was the recipient of USA Hockey's Coaching Education Program's Walter Yaciuk Award for making an outstanding contribution to the program during many years of service as a volunteer.
For Gosek, it is not about the recognition. He even jokes at times about whether the organization gives out the awards to keep coaches helping with its programs. Nevertheless, for him, it is about helping the players and coaches and giving back to the people that gave him so much.
"There's the player development side of it. We've hosted the 14 (year old) camp in July and I've worked at the 15 (year old), 16 (year old), 17 (year old) camps in St. Cloud, Minnesota and in Rochester and now in Buffalo. That's all part of it," Gosek said. "You give back. You do your part and hopefully you can make some difference in some people."
"I gave back to USA Hockey and Oswego minor hockey and hope I can make an influence and help the kids but also help the coaches because the coaches can affect a lot of people," Gosek said.
Gosek is a former Edward Jeremiah Award winner, the award given to the Division III men's ice hockey coach of the year and coach of the Oswego State 2007 NCAA Tournament Championship team. However, when talking to coaches, he reminds them that he is no different than them.
"I tell them, same as me, you never know where your life's going to go or what your career path's going to be," Gosek said. "You do it because you love the game and want to do the best job you can, whether you're coaching minor hockey or college hockey."
In certain ways, Gosek truly is the same as the coaches he speaks to. If one walked into a talk about 30 years ago, he or she would see a young Gosek in the audience. He proclaims himself to be one of those guys who would write down every single thing he heard. He believes a coach can pick up at least one thing they can use from each coach who speaks. Even today, he still takes notes when listening to the other coaches at the events he speaks at.
Gosek has begun to reflect, as he has gotten older on the point he has reached since beginning his coach career with the Oswego Minor Hockey Association 30 years ago.
"For me, it's gone full circle. I used to think it was about Xs and Os and now it's more about communicating with the players, how you communicate, motivation, leadership and philosophy of coaching," Gosek said. "Your team has to have a clear understanding of where you're going and how you're going to get there and the principles and everything else, but it's also important for you to be able to share that and have clear defined roles. It's all part of it."
The topics of Gosek's talks vary depending on the event, but such a realization has helped Gosek in his talks as he relays this lesson to newer coaches, so they can understand these lessons at an even younger age.
"I'd say it ranges, but there is a core of 'It doesn't matter what your systems are as long as all your players are on the same page with it,'" Gosek said. "We watch junior team when we're recruiting with a lot of different systems and I can't say there's one better than another, but what's clear is the coaches have instilled it and all the players have bought into it."
Another part of Gosek's contributions to youth hockey, which relates to his philosophy of getting players to buy in, is his commitment with his program to giving back to the local community. The Oswego State men's ice hockey program has a long standing relationship with the Oswego Minor Hockey Association where it helps develop players once or twice a week, and this season the program is expanding its reach to Fulton and Salmon River.
This portion of Gosek's coaching philosophy has always been one of the most important things assistant coach Mark Digby has learned from him.
"I think the biggest thing he's done is just show me the dedication that you have to have in all aspects of the program, not just what happens on the ice, but in cultivating players as people first and then as players," Digby said. "Also, always being willing to give back, whether it's to this program or other programs from where you come. For Ed, it's Oswego minor hockey and USA Hockey and I think that's part of what makes him go back and want to go back and give more of these coaching presentations that he gives."
The dedication to developing players as people that Digby talks about is evident in the numbers of former players of Gosek's who have gone on to coach themselves. By Gosek's count, over one hundred of his former athletes are now coaching in the minor, junior and collegiate men's ice hockey ranks. By his estimate, the number coaching in college ice hockey is between 20 and 25. Just within Oswego State's conference, there are three former Lakers from the Gosek years.
One of those three is the new assistant men's ice hockey coach at the College at Brockport, Stephen Mallaro. Mallaro, who played for Gosek from 2007-2011, just reached Brockport after two seasons as a graduate assistant at Manhattanville College in Purchase, N.Y. When he thinks of Gosek, Mallaro thinks of a coach who cares about his players even more off the ice than on the ice and would do anything, at any time, for a player, either former or current.
"You learn a lot of the things as a player under a guy like him," Mallaro said. "I learned a lot from Eddie from a family standpoint. He was always there as someone to talk to. It can be anything. It doesn't have to be hockey. I really respect him for that. I can still do that today. I hope to do that some day with my players too."
Since becoming a coach, Mallaro has taken every opportunity he has gotten to ask his former coach questions, mostly because he hopes someday to be the type of coach that others will view the way they view Gosek.
"I think about what he's done at the program in Oswego with the players and try to take what he's taught me as a player," Mallaro said. "I just try to pick his brain to get some things to use down the road."
"I think people who interact with Eddie see the person he is through hockey," Mallaro said. "People say the world of him and I hope they'll do the same with me someday."
After years of looking up to his predecessors, like George Hammond, Don Unger and George Roll, Gosek has reached the point in his career where the mentee has become the mentor. Those who have passed through Oswego State and became coaches are not the only ones looking to Gosek for guidance but hundreds of coaches across the country as well.