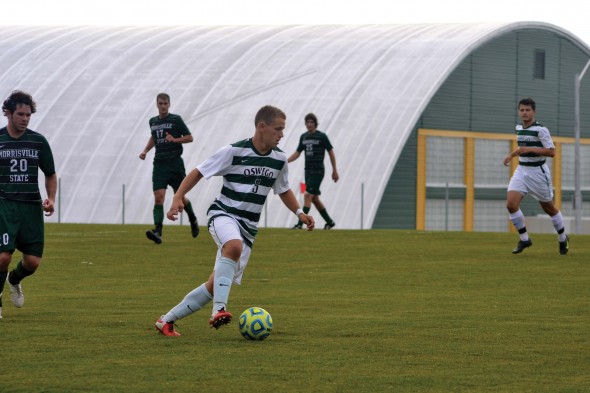 A highly sought after recruit out of high school, Connor Lunduski, chose Oswego State's men's soccer program over Division I for academic opportunities, truly embodying what it means to be a student athlete.
Connor Lunduski was three years old when he fell in love with the most popular sport in the world: soccer. Always inspired to be like his older brother Jacob, he tried to follow in his footsteps. He wanted to be a great soccer player just like his older brother. They never got to play together in high school, and that's one thin Connor Lunduski wishes he could have experienced.
By tenth grade, he was on the varsity team. Eleventh grade was where he really made a name for himself, scoring nine goals in his nine games played. His performance started to create a buzz around Section III soccer.
In the midst of his senior season, Connor Lunduski made the goal of doing something special, and that he did. He had a solid statistical campaign, scoring 14 goals and adding 11 assists. He went into the playoffs with a goal in mind, winning a sectional title, his dreams since a child.
In the sectional semi-finals, he scored the game-winning goal to put Baldwinsville in the sectional championship. At the end of the season, he accomplished his goals and more, leading Baldwinsville to the state quarterfinals where it lost a heartbreaker to Guilderland from Section II, 2-1.
Connor Lunduski's high school career included a first-team all-state selection in his senior season, which caught the attention of several Division I programs. However, as he finished his season and went into the winter his college choice had still not been made.
Jacob Lunduski transferred to Oswego State last spring from Salisbury College in Virginia in order to be closer to home. He did not recruit his brother. He just encouraged him to keep his options open.
Connor Lunduski eventually sat down with his family to make his decision. He decided to attend Oswego State for many reasons.
"Most importantly, Oswego just built the Shineman Center and they have a new engineering program," Connor Lunduski said.
Lakers' head coach Robert Friske recognizes his new player's talent, but notices he is more than a soccer player.
"He gets great grades and is an exceptional kid and is only going to get more exceptional," Friske said.
This importance of academics to Connor Lunduski was a major deciding factor when he eventually chose Oswego State over multiple other programs. He fell in love with Oswego State campus and the program for his desired major after the tour with his older brother.
"The engineering program is really good here and every lab and classroom is brand new," Connor Lunduski said.
Connor Lunduski's Oswego State experience has been just as he hoped and is off to a great start.
"Honestly, I love it here. It made me feel comfortable, I knew a few kids and I had my brother. It was the perfect choice," Connor Lunduski said.
Connor and Jacob Lunduski have been a force this year. Assistant coach Brett Littlefield has noticed the impact the brothers have had on the squad this year.
"They dominate play," Littlefield said. "They're great leaders and have great communication.
Connor Lunduski knew the transition would be difficult from high school to college, but a great group of teammates at Oswego State has made the transition a little easier. This smooth segue has been evident to senior captain Michael Fuss.
"He's adapted great so far this season, a great teammate to play with on the midfield, a very truly special player," Fuss said.
The Lakers have lost five of their last six games and Connor Lunduski understands it has to be about the team first, especially at a time like this.
"I just want to win and contribute anyway I can and get out of this rough patch we're in," Connor Lunduski said.
Connor Lunduski fashions his games after forward Carlos Tevez from the Italian club Juventus F.C., a player known for his work ethic. Connor Lunduski's work ethic is noticeable to assistant coach Christian D'Amico.
"He works harder than everyone else," D'Amico said. "He's one of the the hardest workers on the team."
"Connor has been everything and more," Damico said.
Connor Lunduski's addition also has himself and Fuss optimistic for a successful season after a five-year hiatus from postseason play.
"We hope to make a run and an impact in playoffs and be the best we can be," Connor Lunduski said.
"We just want to be the best we can be as a team and try to make an impact in the playoffs," Fuss said.
There is a team first mentality in the locker room and every player knows there is not a star on the team. There are no big egos and they are a team that plays as one. However, Fuss and Friske still see the potential in Connor Lunduski's future.
"The sky's the limit for Connor," Friske said.
"He has the potential to be great and right now is one of our biggest weapons," Fuss said.
Connor Lunduski recognizes his own chance to make an impact at Oswego State and is ready to put in the work.
"I hope to get better everyday, every week, every month and to win a SUNYAC championship is the ultimate goal," Connor Lunduski said.