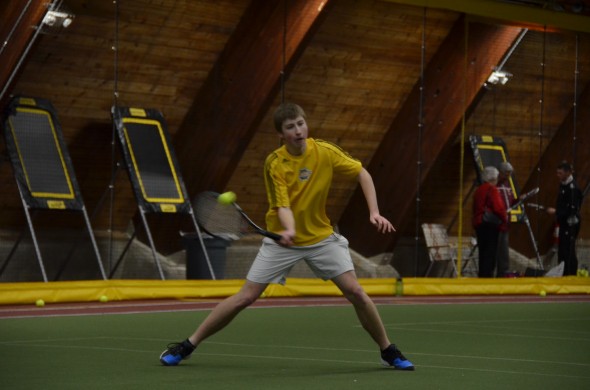 It has been an amazing season for the Oswego State men's tennis team. After picking up a win at Keystone College on April 21, the Lakers improved their record to 6-4. The six wins are the most the program has had in nine years.
The win total also surpassed last year's win total of five and head coach Robert Friske described what has been different about the approach to this year compared to last year.
"They followed the conditioning program in the fall, and the fitness that we did in February," Friske said.
"This is the hardest they've ever worked. Those are both necessities that you need to be an athlete. So I think competitively we are a very fit tennis program."
The Lakers are led by a group of upperclassmen of seniors Ben Weiss, Sam Carges and Max McCune and juniors Tim Van Hine and Mike Owens. Friske described how the upperclassmen have been playing well, but also how they have been pushing the underclassmen to play well too.
"Great leadership from Carges, McCune and Van Hine. They've been great guys. To have the younger kids follow in their footsteps is great," Friske said. "Weiss too, he's been apart of the program for four years. He's giving us stability because he is a exceptional player. Ben has been the only kid on the team all four years."
Weiss has been leading the way playing in both the first singles and first doubles spots, sporting a record of 3-3 in both, respectively.
Carges and McCune have been pairing up in both the second and third doubles spot, having an overall record of 8-2 as a doubles team. McCune has also been playing on the singles side in both the third and fourth spots. He sports a record of 3-6 this season.
As for the juniors, Owens has been playing in the second singles spot for the last six matches. He has a record of 3-3 in those matches.
Owens has also been playing with Weiss in the first doubles spot for Oswego State while Van Hine has been doing very well in singles with an overall record of 6-3 in both the third and fourth singles spots.
Van Hine has also been doing well in doubles with freshman Spencer Thorn with an overall record of 6-4. Thorn has been a huge addition to this Lakers lineup as he is undefeated with a record of 9-0 in the fifth singles spot.
Thorn, as well as sophomore Justin D'Antonio, who is also is undefeated with a record of 6-0 in the fourth and sixth singles spot, and the rest of the underclassmen, have been a large reason for the success Oswego State is having, as well giving a great look to the future for this program.
The Lakers are currenlty in a three- match winning streak after wins against Lancaster Bible College, Keuka College and Keystone College.
With only two matches left in the spring season, and having a historic season for this program, Friske said the team is staying focused to finish the season strong.
"The schedule has been all over the place, with away games getting canceled, so I'm just trying to keep the guys in a rhythm and playing well, but they're all playing very well right now, and I'm just trying to keep them going in that regard," Friske said.
With everything going right for the Lakers right now, Friske is proud to see the bright future ahead for the tennis program.
"I think the tennis team and program have always been a diamond in the rough here. Our outdoor courts have always been very nice, and now with the indoor facilities, it's now that much more attractive," Friske said.
"I have been with the team for four years. So, to put them into a routine and let them develop, we're witnessing the success of that. They're taking advantage of the moment, and they're also working for it as well."
Oswego State looks to add to its success by closing out its season next week at Keuka College on Tuesday, and then the Lakers will take on the Elmira College Soaring Eagles  in their last match of the year at home on Wednesday.