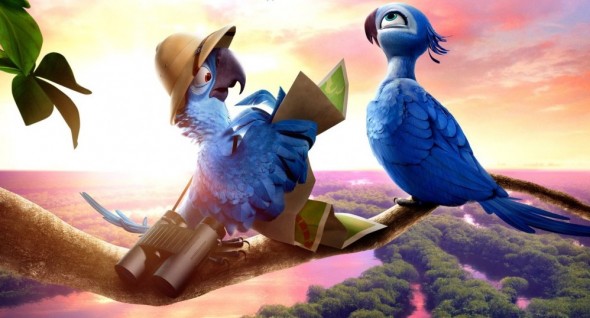 The first "Rio" movie caught children's eyes with all its bright, vibrant colors and catchy, lively tunes. "Rio 2" does exactly the same.
Set three years later, we have a new storyline and a few notable new characters: Kristin Chenoweth ("Stranger Than Fiction") as Gabi and Bruno Mars' as Roberto. Blu (Jesse Eisenberg, "Now You See Me"), Jewel (Anne Hathaway, "Les Miserables") and their three kids embark on a journey to the Amazon to help Tulio (Rodrigo Santoro, "300: Rise of an Empire") and Linda (Leslie Mann, "This is 40") find the rest of the Spix's Macaws that they did not know existed. Tagging along for the journey were Nico (Jamie Foxx, "Django Unchained") and Pedro (Will.i.am) who came looking for people to perform in the Carnival back in Rio.
The film catches children's attention with an opening musical number before Blu, Jewel, and the kids take off to the Amazon with a GPS to guide them to their destination. The incorporation of Blu's reliance on 'human stuff' throughout the whole film elicited a little chuckle each time he got caught using something like an electric toothbrush or a pocketknife.
Once in the Amazon, the characters end up where all the other blue Macaws are — one being Jewel's father who immediately dislikes Blu. In true movie procedural fashion, there has to be a threat to Blu and Jewel's relationship and that threat is Roberto (Bruno Mars) who is Jewel's old childhood playmate. Roberto bothered me the whole movie, as he was a clear threat to Blu and Jewel's relationship and Jewel was letting herself get swept away by him.
There were a few side stories going on as well. One was of Nigel (Jemaine Clement, "Men in Black 3") who recognized Blu in Rio and broke free with Gabi and an anteater to take care of Blu for what he did to him in the first movie. Another story was Linda and Tulio's face off against a man and his team who were cutting down trees in the Amazon rainforest.
I found all but one of the musical numbers enjoyable — the song that Gabi sang to Nigel about her love for him was too strange for me to wrap my head around.
However, apart from the musical number, I enjoyed the addition of Gabi as a sidekick to the hilarious villain Nigel.
It is too early to tell if "Rio 2" is going to end up being a box office hit. According to the LA Times, on its opening weekend it raked in $39 million, which is almost the same as what the first movie earned for it's opening weekend in 2011.
As with most sequels, the first "Rio" was much better than this one. The storyline of the movie was stretched out and the whole movie just seemed to drag on. The obvious struggle is that it is a kid's movie and some of the humor in it is designed to make kids laugh. If I were younger, like when I saw the first "Rio," maybe my opinion of this sequel would be slightly different.
Overall, "Rio 2" is guaranteed to impress children with its catchy musical numbers and wonderful use of vibrant colors on screen.