Tucker Sholtes and Neely Laufer were sworn into office as the new president and vice president of Oswego State student association last Friday. Laufer led her first senate meeting Tuesday under the new position.
Traditionally, the new SA president and vice president are sworn in on April 1, but the two were sworn in early due to problems in scheduling for both of them. President Sholtes was competing at the Enactus National Exposition in Cincinnati, Ohio this week, so he was unable to attend Tuesday evening's senate meeting. Vice President Laufer assumed her role as president of the senate and led through the meeting's progression.
"I think everything went very well [Tuesday] night," Laufer said. "I was somewhat nervous to lead my first meeting, but I think it was a successful meeting. I'm very pleased that during my first meeting we could pass two bills."
Along with the two bills, the senate decided who would be the next chair of rules and judiciary, which was Laufer's former position. Senator Jillian Kranz was unanimously elected to be the position and becomes the senate pro tempore.
"I think that Neely did a great job for her first meeting as vice president," Kranz said. "I think she was probably really nervous, like anyone would be, but she got up there and ran senate with no problems. I was really pumped to be voted chair of rules and judiciary by a unanimous vote. I was happy to see that my fellow senators agreed that I was the best for the job and it gives me some self-confidence starting this new position."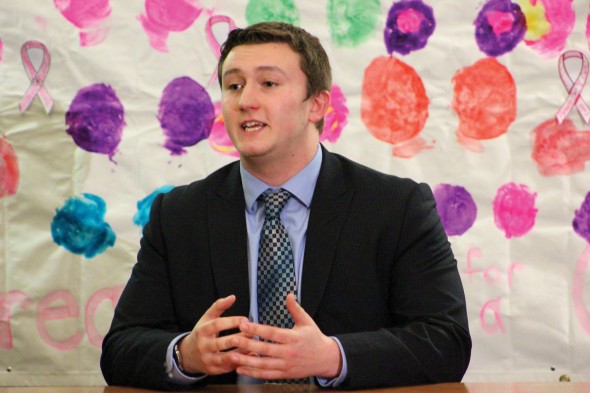 [su_quote cite="Tucker Sholtes, new president of SA"]I think it is important to make people realize that SA is a great outlet if you want to see something change on campus.[/su_quote]
Although they've only been in office for one week, Sholtes and Laufer have been meeting and working together to discuss their plans for the next year for some time now. So far, they have talked about new director rolls and how they can improve senate for next year.
"I think that SA has been running very efficiently and I just hope that it continues to for the rest of the school year," Laufer said. "I'm also very excited for 'meet your senator' that will be happening on April 25."
The swearing in of the new candidates ends Anthony Smith's presidential administration. Smith said he hopes the new president and vice president will make some changes on campus during their terms.
"I have confidence that both individuals will learn their role quickly and will be able to work together to reach out to the student body," Smith said. "I am hoping that they will take my advice about formalizing senate elections such that our presence is well known around campus and I am hoping that they will work toward making the voice of the students an actual presence."
Both Smith and the new leaders are concerned about student awareness of SA and building more representation of students in the senate itself. Only about 3.4 percent of the undergraduate student body cast ballots in the SA election in mid-March. This election was also the second year in a row where both candidates ran for their offices unopposed.
"I think that the election results were fair," Laufer said. "Obviously, I wish more people voted but I'm hoping that in the next few years there will be a larger voter turnout."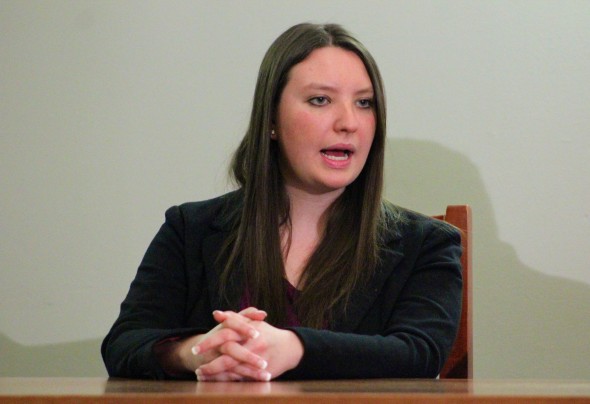 Smith said he thinks SA has had a problem with the presence among the student body for the past 10 to 15 years.
[su_quote cite="Neely Laufer, new vice president of SA"]Obviously, I wish more people voted, but I'm hoping that in the next few years there will be a larger voter turnout.[/su_quote]
"There was a time where our senators and e-board were well known throughout campus and now the president and director of finance are the only people even remotely recognized," Smith said. "It is difficult to get the point across but the student body has to realize that the student association is made up of, primarily, students.  I believe those that want to be involved can do more to increase membership and involvement."
SA senators and directors look forward to the events to come during the next year.