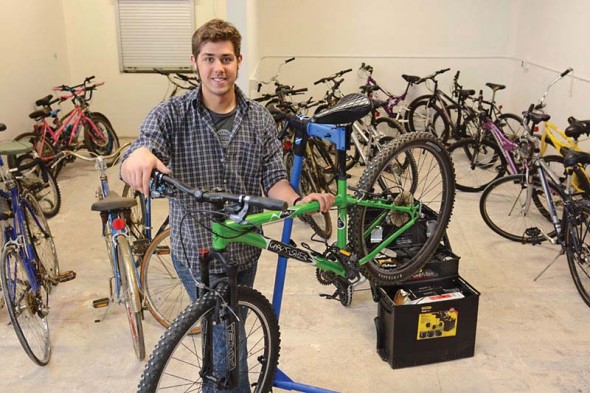 Oswego State announced through its website this week that it has launched a new bike-share program, called the SUNY Oswego Bike Share Program.
The program, founded by Alex Elkins, a senior technology education major and sustainability minor, allows students to rent a bicycle for up to a semester at a time. It will also run workshops to teach students how to do maintenance and repairs on their bicycles.
Elkins races mountain bikes and works in a mountain bike shop in Rochester, so he said working on the program was a natural fit.
"I want to give people the opportunity to be self-sufficient," Elkins said.
The program currently has about 20 bikes and will run out of the basement of Hewitt Union. Several of the bikes were received through donations, as well as bicycles recovered by the University Police. UP often finds bikes left behind by students at the end of semesters, and puts the bikes in holding for 90 days before handing them over to the bike-share program if unclaimed.
The program is backed by the Facilities, Design and Construction office. Elkins was first approached by Jason MacLeod, the graduate assistant for the office, to start the program last year. Campus sustainability coordinators Jamie Adams and Mike Lotito helped the program get traction by finding a location for it and helping with other start-up duties.
Adams said that developing a bike-share program has long been a goal of the sustainability office. A previous attempt, called Campus Cruisers, had been launched years earlier, but ran into issues with students damaging or losing bikes. One particular incident ended up with a bicycle at the bottom of Glimmerglass Lagoon.
"There was a certain lack of responsibility from the students," Adams said. "It was a great idea that was just sort-of mismanaged."
Elkins said the new program aims to combat those problems by putting more personal responsibility on the student taking the bike. Students applying for bikes will have to fill out a safety waiver and sign an agreement of responsibility for losing or damaging the bike.
The program is free to students for now, but Elkins said he'd like to add a security deposit that students can get back after returning the bike in good condition.
Students looking to rent a bike can contact the facilities office via email at facilities@oswego.edu. Each bike comes with a lock, and Elkins said eventually a helmet as well.
Adams said she is excited for what the program could mean for sustainability efforts on campus.
"Basically a massive chunk of our carbon footprint here at Oswego is due to all our commuter and non-commuter student driving from say, The Village to Culkin," Adams said. "And then back from The Village to Wilber Hall. Making bikes a viable form of transportation, so instead of walking a million miles, you can get to a place rapidly, it's going to reduce our carbon print pretty measurably."
Elkins said the program encompasses all aspects of sustainability.
"Sustainability is trying to balance the economic, the social and environmental aspects of a problem and trying to make sure it addresses all those and is good for all of those things," Elkins said. "And I really think a bike share hits a lot of those points because it provides a cheap, easy form of transportation. It's healthy. So, biking around campus or biking into town to run errands, you're saving gas, but you're also getting people to move around and have a more healthy lifestyle. And it's environmental friendly. You're just burning off your own energy."
Students looking to rent a bike for this semester are encouraged to act soon, as several bikes have already been rented. The program is also taking donations of any unused bicycles.
"We've already got a ton of student feedback. People are very excited about it," Adams said. "Most of [the bikes] have already been called on. But right now we've actually got more people interested than bikes, which is a good problem to have. Now we've just got to get ourselves more bikes."