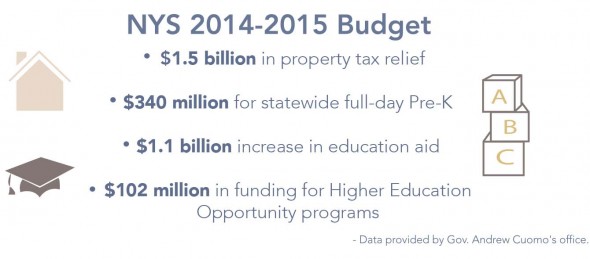 New York state legislators have passed their fourth consecutive on-time state budget under Gov. Andrew Cuomo.
The budget appropriates $138 billion for the next fiscal year. Including a 5.3 percent increase in school aid. Schools with higher-need will receive 70 percent of the $1.1 billion allocated funds.
Higher education will see a total of $102 million going to opportunity programs at SUNY, CUNY, private and independent colleges. More funding will be provided for STEM, as a new scholarship program is created with $8 million in funding. The scholarship will go to the top ten percent of high school graduates pursuing STEM careers who will work in New York for five years.
The property tax reforms will provide $1.5 billion in relief through a new property tax credit. According to Cuomo's office, the plan is to give local governments a reason to share services to lower the cost on taxpayers.
The budget has come under fire, though, as for the third straight year students in the SUNY system will see a $300 tuition increase. The Albany Times-Union wrote a staff editorial pointing out that despite this increase in costs for students, the state budget provides no more funding to SUNY's core budget than it did in 2012-13. The budget passed on Monday and will be in effect for 2014 until April 1, 2015.