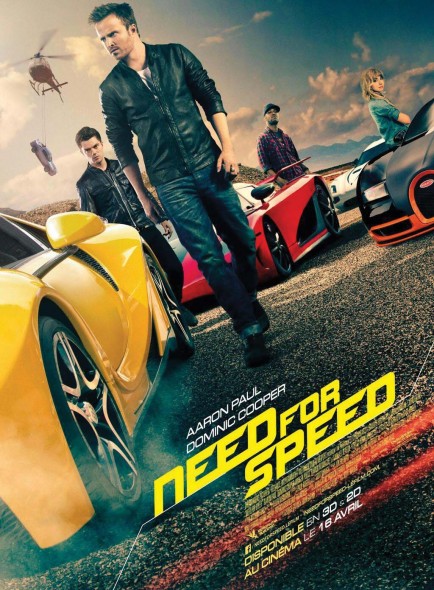 "Need for Speed" is a perfect example of a film whose very premise seems destined for failure.
For one thing, it's a vehicular action movie, a subgenre which is far-from-relevant in modern film, with the exception of franchises whose titles begin with "Fast" and end with "Furious." It's also a video game film adaptation (and one based on a particularly thematically-shallow franchise at that), which is a recipe for disaster all its own. On paper, the project  looks horrible.
In execution, however, the film adaptation of the popular racing game franchise manages to impress. Although plagued with a few pacing and tonal problems, the film does a praiseworthy job of taking the paper-thin premise of the "Need for Speed" games and turning it into an entertaining film for both fans and general audiences alike.
The film's plot, which appears to be based on that of the 2011 game "Need for Speed: The Run," centers around race-car-driver-turned-mechanic Tobey Marshall (Aaron Paul, "Breaking Bad"), who owns a struggling garage devoted to tuning high-performance cars that he funds by participating in underground street races in a league hosted by the enigmatic Monarch (Michael Keaton, "RoboCop"). One day, his former rival Dino Brewster (Dominic Cooper, "Abraham Lincoln: Vampire Hunter") offers Marshall a job: completing a high-end Shelby Mustang in exchange for a quarter of the car's selling price.
After selling the car to dealer Julia Maddon (Imogen Poots, "That Awkward Moment"), Dino challenges Marshall to an illegal race in which Marshall's friend Little Pete (Harrison Gilbertson, "Haunt") is killed. After Dino flees the scene, Marshall is thrown in jail for involuntary manslaughter. Two years later, following his release, Marshall plots his revenge by vowing to win the De Leon, Monarch's secretive championship race and exposing Dino's guilt in the process. In order to participate, Marshall and his crew must travel from New York to San Francisco in 45 hours or less, in a cross-country road trip filled with car chases, traffic violations and car crash after car crash after over-the-top car crash.
The film's overall plot, while incredibly rote, is entertaining for the most part. It does, however, suffer from pace issues throughout the first third or so. Obvious comparisons may be made between this film and the "Fast & Furious" franchise, although there is a significant difference in tone between the two. Whereas the latter places an emphasis on crazy action sequences that are tangentially car-related broken up by lighter and more comedic moments, "Need for Speed" has an inconsistent tone to its plot periodically that has a noticeable effect on the film as a whole. Despite its pacing and tonal flaws, however, the film gets a lot of mileage (pun intended) out of its spectacular chase sequences, most of which end in one or more satisfyingly over-the-top crashes.
As a film adaptation of a video game franchise, "Need for Speed" is remarkably subtle with references to its source material. As mentioned above, the plot does feel heavily inspired by "The Run," though most of the other references to games in the series are in the form of visual cues based on the games' menu interfaces and maps, along with a throwaway line or two that harken back to the popular 2005 entry "Need for Speed: Most Wanted." This is one instance where the franchise's loose premise actually serves the film rather well, as there is very little plot to shoehorn into a two-hour timeframe.
The cast provides a number of great performances, with Keaton and Cooper giving spot-on performances throughout. At first, Paul's portrayal of Marshall draws a bit too heavily from his "Breaking Bad" persona, which tends to distract the viewer at times, though he more or less adjusts to the role by the end of the film. Although the film suffers from problems in tone, most of these have more to do with the plot than the cast performances themselves.
Although the film by no means perfect, it serves as an entertaining representation of a popular game franchise that in some ways sets a new bar for future video game film adaptations.