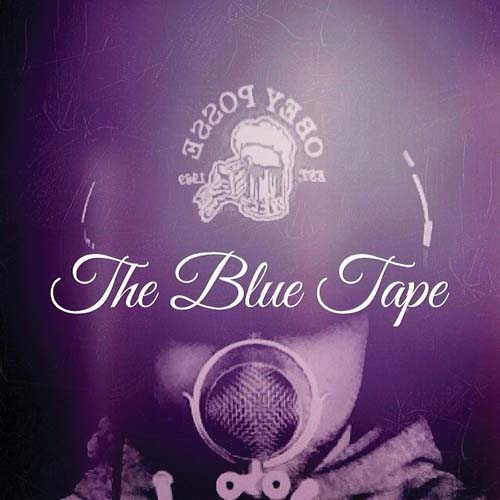 Rob Dezendorf woke up this past Sunday aware that he would have to spend about six hours of his 21st birthday coming back up to our beloved tundra of Oswego. What he was unaware of was that this birthday would be more memorable than expected. Around 10 a.m., Dezendorf officially uploaded his debut hip-hop project entitled "The Blue Tape" on various music websites, igniting the start of what could be a bright future.
Using the stage name "Bobby Chuck," Dezendorf compiled a nine track mixtape which was written, mixed and produced entirely by himself (with the exception of "My Party Song," which is originally produced by Beck). "The Blue Tape" debuted to much support and praise by Dezendorf's inner circle and outside audiences. Within the first 24 hours, the mixtape received nearly 600 views, 80 streams and 21 downloads on DatPiff.com, a product of the album's strength from its colorful sound, diverse nature and captivating lyrics.
The mixtape opens and closes with dialogue from Dezendorf's late mother, as he dedicated the project to her, delivering messages of encouragement and advice for her son's career and life. The intro leads into the first song "Real Boy RealEyes" which had a feel-good effect as he discussed how he stays true to himself, avoids a false identity and any gimmicks. It's a great song for Dezendorf to open the mixtape with, as right off the bat he gets into the pure hip-hop sound while properly introducing himself to the hip-hop/rap game.
Following the feel-good introduction comes the philosophical and emotionally driven tracks "Am I Right?" and "Bottle It Up?" in which Dezendorf allows us to take a trip inside his mind. Dezendorf said "Am I Right?" is about him questioning his moral beliefs, striving to want a definitive answer as to whether the way he lives is proper or not. On this track, Dezendorf displays his ability to sing which represented an Andre 3000-esque style. "Bottle It Up" has a more personal tone that gets off the fun loving style that Dezendorf has, and takes the listeners within the mind of Rob Dezendorf. According to the lyrics, there seems to be an internal conflict with his emotions and Dezendorf uses "Bottle It Up" to vent and express his frustrations.
Although it may not provide the typical "Bobby Chuck" sound that contains a strong blues/jazz influence, "My Party Song" still is a strong song, which he made for himself describing how he likes to party. Yet, it is quite possibly upstaged by the better song on the mixtape entitled, "We Comin' After You." The track stands out not only for its captivating beat, but for the message that Dezendorf delivers to the rest of the rap game. Within the first verse Dezendorf raps, "I don't require the fame, I don't require the fortune. What I want is for crappy rappers to forfeit," a powerful line that reflects Dezendorf's purpose and intentions to build a legacy rather than a large bank account or a flashy lifestyle.
Dezendorf said the song he enjoyed the most was the final song on the mixtape, "My People," which is about Dezendorf looking back on some great memories and acknowledging his inner circles with a proper toast. The piano, driven song wraps up a significantly stellar debut mixtape which is capped off by some final words of advice from Dezendorf's late mother, including nuggets such as "Stay true to yourself,"  "Make sure you say what you want to say and live your truth," and "You gotta walk away from the money, walk away from the money. You gotta walk away from the fame, walk away from the fame. But just do what your truth is and say what you wanna say."
"The Blue Tape" is a tremendous starting point for Dezendorf's career.  Unlike other mixtapes, this one incorporates a unique style of pure hip-hop roots, delivering messages while still displaying his ability. Dezendorf hasn't yet shown us where his full ability could take him but, "The Blue Tape" is a nice sample of what the future could hold, with his debut album "Will Rhyme for Food" looming.
It was an arrival unlike anything else.  It goes without saying that there is always room for improvement and production could be brushed up but this didn't set the mixtape back whatsoever. Dezendorf introduced himself to the rap game in style. If "The Blue Tape" is any evidence, the rap game better watch out –Bobby Chuck is coming after it.