Oswego State alumnus and children's book author Bruce Coville will be the keynote speaker for Oswego State's annual Quest.
Coville will speak to students and faculty in the Campus Center auditorium at 10 a.m. on April 9. The event is free to the public.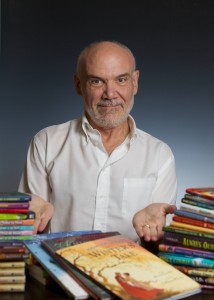 "I think as someone immersed in creative activities, Bruce brings a lifetime of experience relevant to students," Quest coordinator and Oswego State emeritus professor of sociology Norm Weiner said in a release from the school. "I think he can speak personally and professionally about taking risks, being creative and about the place of creativity in every pursuit, from sciences to the humanities."
Coville graduated from Oswego State in 1973, and has since written over 100 children's books, including the "Sixth Grade Alien" and "The Unicorn Chronicles" series. He also gave the commencement speech for Oswego State's December 2011 graduation.
In 1998, the Oswego Alumni Associated awarded Coville with a Distinguished Alumnus Award, and in 2003, he was given an honorary doctor of letters degree by SUNY.
Along with his books, Coville has written four musicals and formed Full Cast Audio, an audiobook publishing company in Syracuse. His books have been translated into over a dozen different languages and 18 million copies of his books have been printed.
The deadline for student submissions to Quest is Wednesday, March 12.