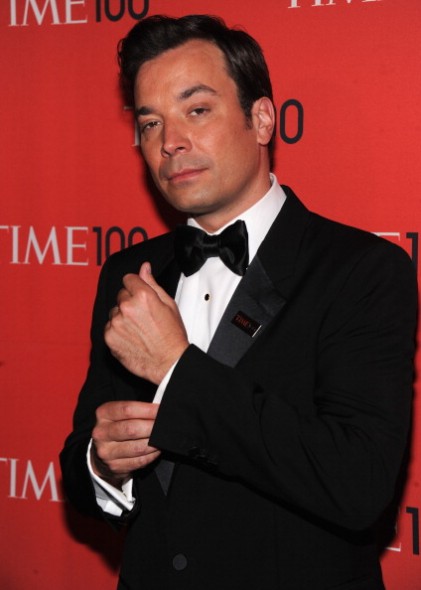 For the first time in 22 years, the "Tonight Show" aired without its usual host, Jay Leno.  Instead, it was young comedian Jimmy Fallon who took the stage, succeeding Leno as the "Tonight Show's" host on Feb. 17.
Dressed in a gray suit with a black tie, Fallon was the center of attention, as over 11 million viewers tuned in to witness Late Night history. Following a bit of a slow start, which saw Fallon give a little biography about his life and career, as well as the legacy of the franchise, he ran behind the curtain again, returned and hit the ground running. Once seated behind his desk for the first time, Fallon discussed about how a friend bet him $100 that he would never host the "Tonight Show," which soon transitioned into a comical skit where celebrities and public figures including Seth Rogan, Robert DeNiro, Lady Gaga, and Joe Namath each paid Fallon $100. The skit concluded with late night rival Stephen Colbert entering pouring a bucket of pennies on Fallon, welcoming him to the 11:30 p.m. time slot as only Colbert could.
Fallon's first episode was well received by many viewers and critics. While this may be Fallon's first go around manning the "Tonight Show" ship, his experience on shows such as "Saturday Night Live" (1998-2004) and of course, his ever popular "Late Night with Jimmy Fallon" (from 2009-2014) seemingly proved that he is capable of handling the "Tonight Show". Aside from that, Jimmy Fallon has a lot working in his advantage compared to his predecessor, whether it's his wide variety of talent from acting, singing and dancing, or his unavoidable charisma. Fallon's skill set as a host appeals to audiences of different demographics, which may explain why NBC chose him to lead the "Tonight Show."
As we move into the Jimmy Fallon era of the "Tonight Show" the question of: "Who's going to take over his old show" has been answered by former "Saturday Night Live" cast member, Seth Meyers. On the first episode of "Late Night with Seth Meyers," the host paid a tribute to Fallon by utilizing one of Fallon's famed skits "Thank You Cards" to thank the "Tonight Show" host for allowing him to take over the show. Together, both Myers and Fallon provide NBC with a youthful one-two punch in the late nighttime slots moving forward, which may prove very beneficial for the network.
With Fallon, we shouldn't expect another incident like the one that we saw with Conan O'Brien back in 2009-2010. This scenario is much different this time through. Jimmy Fallon is seemingly more talented than both Jay Leno and Conan O'Brien combined and his show provides a spark (which could also be attributed to "The Roots" as his band) that cannot be compared to any other show.
In the end this could prove to be one of the more attractive shows on television moving forward, as this show shall change Jimmy Fallon's life and career. When Jay Leno gave his retirement speech, he mentioned how the "Tonight Show" changed his life where he was able to meet celebrities, musicians, presidents, and other important people. One can only imagine what this will mean for Jimmy Fallon and the type of journey this will be. All we know is this is going to be a fun, unpredictable, and memorable ride. Quite frankly, this will be exciting.