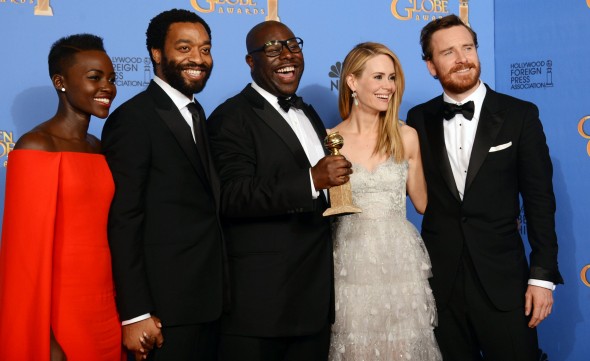 On Jan. 12, "Award Season's Booziest Night," otherwise known as the Golden Globes, took place.
Returning as second-year hosts, Amy Poelher and Tina Fey sought to create an event equal to last year's Globes.  With their raunchy and oftentimes laugh-out-loud humor, the duo had guns blazing at the 71st annual award show that, along with the Emmys, kicked off as award season.
The Golden Globes, which recognizes both television and film awards, divides nominated films into Best Drama and Best Comedy/Musical. These awards, which are cut down to one major award for Best Picture in most award shows, provide the opportunity for not one, but two critically acclaimed films to take home major prizes. Other highly contested awards for Best Actor, Best Actress, Best Supporting Actor, and Best Supporting Actress are also split into two categories in the Golden Globes. Another prominent award is that for Best Director.
This year, nominees remained largely unsurprising. Most of the same films, actors and actresses received nods. However, there is much contention about who should win the trophies.
In Best Picture, a few films have become front runners of this year's award shows. "12 Years A Slave," which tells the compelling story of a free man who is tricked into slavery in the South, took home the Golden Globe for Best Motion Picture – Drama. However, "American Hustle," a flashy portrayal of '70s con men/women, took home the Golden Globe for Best Motion Picture – Comedy. During the Critics' Choice Awards, which combines the drama and comedy categories, "12 Years" took home the night's largest prize; however, "American Hustle" still took away multiple awards, including Best Acting Ensemble. During the Screen Actors Guild Awards, otherwise known as the SAG Awards, Best Acting Ensemble once again went to the 70s drama/comedy, "American Hustle."
For Best Actor, Matthew McConaughey is widely considered a favorite. Receiving the Golden Globe, SAG Award and Critics' Choice for his role as a drug smuggler of unauthorized AIDS medication in "Dallas Buyers Club," McConaughey appears seemingly unstoppable. The film has received wide critical acclaim and the public seems favorable to him and his character. Other nominees within the category, like Tom Hanks for his role as Somali pirate-fighting "Captain Phillips" and Chiwetel Ejiofor as a free man who is recaptured in "12 Years," turn this category into a more leveled race.
Best Actress is yet another category across this year's award season that has been a closer battle than in recent years. With Sandra Bullock as a doctor lost in space in "Gravity," Cate Blanchett, a newly poor and slightly insane socialite in "Blue Jasmine," and Amy Adams as a talented con woman in "American Hustle," the fight for Best Actress is unpredictable. During the Golden Globes, Cate Blanchett won in the Drama category, edging out Bullock, while in the comedy section, Adams ruled over Meryl Streep. During the Critics' Choice Awards, both Adams and Blanchett won Best Actress prizes in their respective categories of comedy and drama. During the SAG Awards, Blanchett once again received a Best Actress win, giving her an edge for the future.
Perhaps the least competitive category across this season is the contest for Best Supporting Actor. Jared Leto, who plays an HIV-positive, transgender woman, is largely being regarded as the front-runner. Already, receiving the Golden Globe, SAG and Critics Choice awards, Leto is a clear favorite. Leto has continuously beaten out nominees like Michael Fassbender, Bradley Cooper and James Gandolfini. In fact, Leto's only true competition may lie with Barkhad Abdi, a first time nominee who played a Somali pirate in "Captain Phillips." Largely noted as a rag-to-riches story, Abdi went from limousine driver to critically acclaimed Hollywood actor in a few short months.
In contrast, the most contested category is Best Supporting Actress. Jennifer Lawrence, a movie critic favorite; as well as a lovable Internet personality, won the Golden Globe for her role as a manic housewife in "American Hustle." But great competition is coming from Lupita Nyong'o for her role in "12 Years A Slave." Nyong'o has continuously swept the red carpet and became a fashion icon. And, after garnering both the SAG and Critics Choice awards for her role as a slave in "12 Years," Nyong'o has given powerful acceptance speeches that have turned her into a household name. Lawrence and Nyong'o do not have much competition from other nominees, such as Sally Hawkins and                              Julia Roberts.
In terms of Best Director, some small controversy was sparked after Alfonso Cuarón won for his "Gravity." Cuarón beat out Steve McQueen for "12 Years," Paul Greengrass for "Captain Phillips," Alexandre Payne for "Nebraska," and David O'Russell for "American Hustle." However, this controversy has since quieted after Cuarón went on to also win the Critic's choice Award as well.
This year's award season has garnered millions of viewers, reviewers and followers across the nation. Fans of the shows and the films that have been nominated have generated mass trends on social media, memes and controversies all over the web. The Academy Awards, more commonly known as the Oscars, will surely heighten the frenzy.