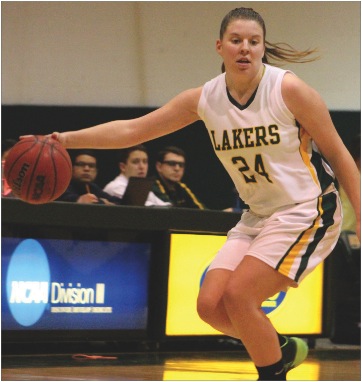 The Oswego State women's basketball team lost its seventh straight game on  Tuesday, falling 63-51 at home to SUNY Oneonta.
Oneonta featured a big lineup that gave the Lakers trouble all game. The Red Dragons challenged shots and forced Oswego State to shoot just 32 percent from the field for the duration of the game.
The first half was kept close due in part to clutch shooting and some missed opportunities by Oneonta.
The Lakers shot just 25 percent in the first half while the Red Dragons shot 32 percent and held a six-point advantage going into halftime.
Coming out of the break, the Lakers caught a bit of fire, hitting two three-point shots to even up the game a minute into the half.
Oneonta, however, went on a run of its own and never looked back, building a lead of 16 at one point late in the second half.
The Red Dragons only missed 10 of their 26 attempts in the second half, shooting 61 percent and improving on all aspects that hurt them in the first.
The Lakers, meanwhile, shot 37 percent in the second, and while it was an improvement from the first half, it was not enough to overcome their in-conference rival.
The women's basketball team is looking to get back on track after its recent struggles despite a hot start to the season. Head coach Tracy Bruno believes that defense is the center of what has been plaguing her team.
"I don't think that we've been defending very well consistently for 40 minutes," Bruno said. "The game on Saturday we score 78 points, that should be enough for us to win, but we gave up 89."
But defense alone will not win more than one game for the Lakers, according to Bruno.
Both big plays and solid performances are key to helping her players break out of their slump.
"I think that now we're sort of in that mess of it, it's a matter of needing that big win and needing that big play to break out of it," Bruno said.
She also noted that the team is having difficulties answering when teams go on big runs to pull away, saying that basketball is a game of runs and the Lakers need to be able to respond better in order to keep games close and get back to their winning ways.
The Lakers will look to work on these issues and execute better at home against SUNY Cortland on Saturday for Senior Night. The game will be Oswego State's second-to-last home game of the season. Tip-off is scheduled for 6 p.m.