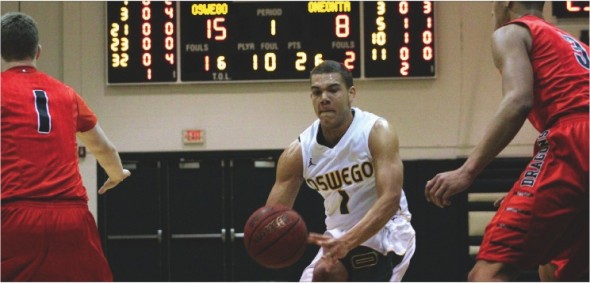 The Oswego State men's basketball team, which suffered a heart-breaking defeat to Fredonia in its last game on a buzzer-beating game-winner by SUNY Fredonia, came back strong on Tuesday.
The Lakers controlled the game against SUNY Oneonta from start to finish and secured a 71-61 victory at Max Ziel Gymnasium.
The Lakers controlled the inside, attacking the paint and going away from their usual three-point-oriented game, only attempting 10 shots from behind the three-point line.
Rather than settling for long-range shots, Oswego State was more aggressive and attacked the basket with most of its points on post-ups near the paint and drives to the hoop.
Oswego State got off to a hot start as Kyle Covley's three-pointer at the 16:21 mark broke a 6-6 tie that kickstarted a 13-2 Laker run over the next 5:12.
That run represented the turning point in the contest, as the Red Dragons could never close the gap to less than seven points for the remainder of the game.
At the half, the Lakers held a 15-point advantage at 40-25 and never looked back. Oswego State would extend its lead to 23-points, and held a 59-36 lead with 6:34 remaining in the contest. While Oneonta pulled closer, the Red Dragons could not finish their comeback thanks the Oswego State's play on the boards.
Rebounding was the Lakers' biggest strength this game, with the team grabbing nine more boards than the Red Dragons (40-31).
Of those 40 rebounds, 11 came on the offensive end, which led to 13 second-chance points, which also helped control time of possession.
The Lakers also managed to exploit some Red Dragon mistakes, capitalizing with 10 points off of 10 turnovers. Oswego State's bench was critical as well, outscoring the Oneonta bench 25-12.
Five different players scored in double figures for the Lakers, with Elijah McLaurin leading the way with 15 points. Walter Sampson and Daniel Ross each finished with 13 points.
Both Keith Tyson and Rashawn Powell missed double-doubles by one rebound, grabbing nine each to pace the team. Tyson finished with 12 points and Powell chipped in 11.
Oswego State (13-7, 7-6 SUNYAC) will continue its late-season stretch with another pivotal SUNYAC matchup at 8 p.m. on Saturday night when SUNY Cortland (12-8, 7-6 SUNYAC) comes to town for Gold Night.
It will be Senior Night for the Lakers and will be the first contest between the two schools this season.