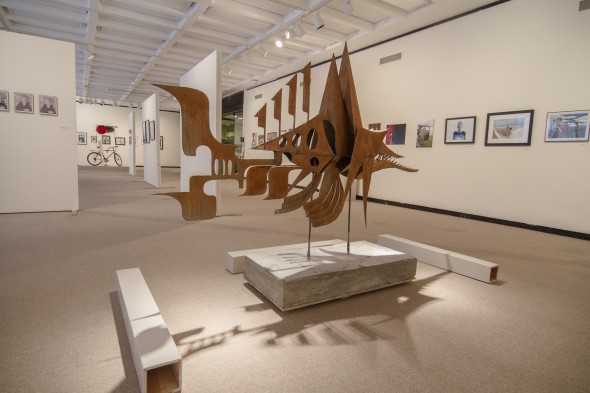 At the Jan. 31 opening of the Juried Student Art Exhibition in Tyler Art Gallery, a small crowd walked among the large, diverse collection. The artists admired the work of their peers, feeling no small satisfaction at having been selected for the show.
"I can't believe my piece got a whole wall," said senior Tom Rigney.
This year's exhibition features everything from giant wall portraits to a hand-sized pop-up book, photographs, digital illustration and even birdhouses.  Sculptural pieces made a strong showing, such as the rickety, slightly rusted bicycle with wings and propeller, "Among the Birds." It projected a big presence in the gallery and artist Jonathan Jaszcar completed the piece by posing next to it in an aeronaut's leather cap, goggles and a blue jumpsuit.
At the far end of the room stood a massive, steel and concrete sea creature, "Dreadnought."  The artist, recent graduate Zack Wilson, said he "spent probably half the time" on the project just cutting out the pieces before he welded together his underwater beast.  To achieve the orange rust patina, he used a solution of vinegar and peroxide.  He said this color tone was inspired by eerie, dried bloodstains that show up a lot in the "Silent Hill" series of survival horror games.  From its otherworldly fins to the knife-like dorsal to a razor-fanged "inverted whale jaw," this piece is an alluring terror.
On the fuzzier side of things, there was "Cat Love," a functional sculpture artist Jonathan Shyne built for feisty felines to play on and nap in.  The colorful, carpeted letters "L," "O," "V" and "E" made a large square, with alcoves between them, and feathery balls hanging off of it on springs.  No cat would want to leave this beautiful, affectionate testament.
In the opposite gallery room, there was a showing titled "Recollection," with artwork dedicated entirely to memory loss. The juried exhibit touched on this theme as well.  One piece was "Alzheimer's Reflection" by Pauline Lam.  It is a pairing of dark, graceful digital illustration pieces that show mirror images of the cross-section of a human head and each head has a tree growing in the cranial cavity.  On the left side, the tree is full of leaves, but on the right, its boughs are naked.
At the beginning of the 6 p.m. awards ceremony, President Deborah Stanley's interim chief of staff Kristi Eck appeared on Stanley's behalf to announce three pieces selected for the Presidential Collection.  They were "The Things They Carried," a black and white drawing by Katelyn Luce, "Oswego Fragmented," a mixed media landscape by David Owens and "Fat," a ceramic burger sculpture by Desirae Collins.
"I've gotten some great art for my office," Eck said.
The Juried Student Exhibition will stay on display until March 1.