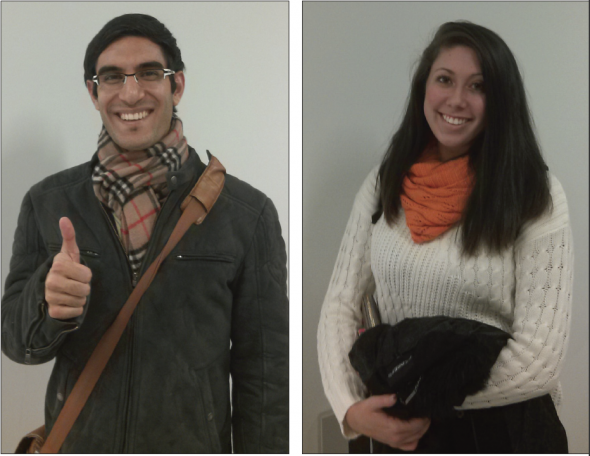 Two Oswego State students will become Student Fellows and participate in SUNY's 64 campus-size big data project next year, affecting 463,000 SUNY students.
SUNY Chancellor Nancy Zimpher made the announcement on Oct. 29 in the conference titled "Building a Smarter University: Big Data, Innovation, and Ingenuity." The conference was held in New York City as part of the third annual "Critical Issues in Higher Education."
Eight students from the SUNY system from a variety of fields of study constitute Student Fellows.
The two Oswego State students joining in the project are Erika Wilson, a junior majoring in applied mathematics with a minor in applied statistics, and Eyub Yegen, a senior majoring in both finance and applied mathematical economics, with a minor in applied statistics.
Wilson and Yegen are both experienced in their field. Wilson has participated in several undergraduate research projects, including image restoration and copula model fitting.
"I was interested in doing this because my previous research projects have dealt with different dimensions of data analysis," Wilson said.
Yegen was invited to become an intern at the Turkish Grameen Microfinance Program, where he assisted the organization by analyzing its Big Data set. Yegen also worked on social business projects with students from Brown University and Cambridge University.
"We [Student Fellows] will be putting every effort to achieve better use of big data," Yegen said. "I would be working with experts in the industry."
The other six students in the SUNY system are from a variety of fields.
They include two doctoral students from the University at Buffalo, one studying special education and the other studying nursing, one computer information system from Buffalo State, one with an associate degree in liberal arts and human services from Cayuga Community College, one doctoral student studying communication at Cornell University, and one majoring in computer science and mathematics at Old Westbury.
"We have a very diverse group of students in Student Fellows," Yegen said. "We are able to come in different perspectives to create a new project. The SUNY system would be more successful by using this big data."
The conference brought together international experts and thought leaders. It examined how the emergence of big data can help higher education improve the student learning experience, enhance research, maximize resources, support effective community outreach, strengthen the education pipeline and advance university infrastructure, according to SUNY's website.
Harper Reed, former chief technology officer of Obama for America, was a keynote speaker of the conference.
Reed talked about how the strategy of data-driven micro-targeting strategy, meaning personalization based on big data, led Reed's technology team to better fundraising in the 2012 election.
Reed's team analyzed the individual's previous contributions and developed the appropriate personalized figure to contribute based on the original model. Reed's team also led to more efficient voter contact by facilitating social network services, finding those who influence the individual and reminding the individual to vote.
"We required the cloud to do what we needed," Reed said. "We had all this technology and great people in our team. Without cloud, there is no way we could have actually achieved any of that."
Reed wrapped up his speech with lessons crucial in the Big Data project: to build a great team, to not be afraid of hiring different people, to facilitate the community, which is the power behind the brand and the success, to launch.
"The idea of the conference was to harness the use of data and data analysis in higher education," Wilson said. "Members wanted to re-image what it means for students who are participating in science, technology, engineering and math fields. As a student fellow, we were provided first-hand experience on how this should be done."
After the speech, Student Fellows had an opportunity to talk with chancellors and speakers, including Reed, in the concurrent breakouts.
"I had an opportunity to talk with the best people available in the conference," Yegen said.
"[Reed] encouraged me to look into a career as a product manager—a job that mixes my mathematical experience with communication skills," Wilson said.
According to McKinsey & Company, in 2018 the U.S. will face a shortage of 140,000 to 190,000 people with analytical expertise and 1.5 million managers and analysts with the skills to understand and make decisions based on the analysis of big data.
"There is a high demand of data analysts," Yegen said. "Students in Oswego State could be a leader in the industry, medical field, everywhere. It is such an open ocean."
Yegen also said this could be accomplished with the help of Oswego State's administration.
"During the conference, Reed said, 'Just leave the youths alone. They know what they're doing already,'" Yegen said. "To some extent I agree with that, but to some extent, I don't, because universities have to understand the current generation that they could provide the opportunity."
Details on what to do in the project to enhance efficiency in higher education have not been decided yet. After the decision-maker in SUNY administration gathered up all the Student Fellows members' ideas and models, the project will be assigned to the members.