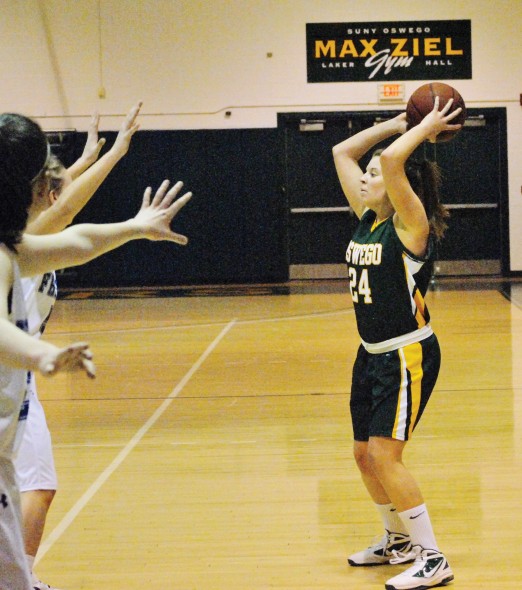 The Oswego State women's basketball team is looking to continue where it left off last year after going 18-9 in 2012-13.
The Lakers will rely on a new core of players in order to build off of last season's success.
After averaging 9.1 points per game last season, senior guard Lauren Nunziato is the team's leading returning scorer. She is one of three seniors who will look to lead the team this season both on and off the court this season.
"It's going to be important for everyone, not just me, to come together and have a voice on our team," Nunziato said. "I think we're doing that a lot more in practice. Younger girls are stepping up and giving their own input on what they think is going to be best for us this year."
Head coach Tracy Bruno expects a lot from her senior guard.
"With Lauren being a senior, obviously we have to expect leadership first and foremost, and I think that's her biggest responsibility as someone who's logged a lot of minutes for us," Bruno said.
"She clearly is one of our best shooters. We need her to be consistent at that position. She's also one of our better defenders, and she just has to play her game and not worry about taking on more than she's capable of and just do it to the best of her ability."
Sophomore guard Tayler Sorell has emerged as the starting point guard for the Lakers, and performed well during the team's scrimmage against Onondaga Community College. Despite being only five feet tall, her poise with the ball in her hands and ability to make key plays and crisp passes will play a big role in the half-court game for the Lakers this season.
Sorell said she is looking forward to her starting opportunity.
"I like it," Sorell said. "Last year, watching Kassie (Kleine) helped a lot and this year it's nice to take the role as point guard. We're trying to push the ball a lot this year and I think I can be pretty good at that."
Sorell said she needs to work on keeping composure. When the team was falling behind against OCC, Sorell started taking poor shots from and making bad decisions with the ball.
"We just have to pick each other up and talk," Sorell said. "We play great when we talk to each other, so when we're down we just have to pick each other up."
Sorell's backup, freshman Mary Mazzella, has also performed well and displayed strong ball-handling skills that will help pace the Laker offense.
Mazzella boasts a strong spin move, which was on full display in the team's scrimmage.  She has been impressive on the fast break and has a knack for finding open teammates.
"Mary's been a kid who's stepped on the floor and competed right from the beginning," Bruno said.
The Laker coach went on to say how Mazzella is not one to take a backseat just because she is a freshman.
"She's not that kind of kid," Bruno said. "She thinks the game as much as she plays it.  She's a really good ball handler. She does a great job at pushing our pace and I think that as she becomes more of a perimeter threat, she could be really an unbelievable player."
Bruno spoke very highly of her point guard combination.
"Tayler I think will be sort of a one-two punch with Mary," Bruno said. "I think they're both at that point guard spot and are both different players. Tayler is a better perimeter shooter and just a flat out three-point threat, whereas Mary can get to the basket a little bit more".
The pace of the game is something Bruno is looking to improve as well with two young guards running the point.
"At that position, whether it be Mary or Tayler, we're continuing to learn and with us trying to really push pace and score in that manner," Bruno said. "It's an understanding and a balance of 'when do we push?' 'when do we set up?' 'when is it better to slow things down?' and I think Tayler is starting to understand that a little bit more."
Oswego State will need to find a way to make up for the loss of its two leading scorers from last season, both seniors who have since graduated. Meagan Stover and Kari Kipper both averaged double figures and helped lead the Lakers last season.
"We've got some big shoes to fill," Bruno said. "We graduated five seniors and four starters so we're a little bit smaller, but I think across the board we're a little bit better at shooting."
It is clear that the players and coaching staff are eager and excited to begin the 2013-14 campaign.
Bruno said her players are constantly growing and that the team might look a bit different come January as players emerge and a rotation is set.
Oswego State's regular season begins on Friday when it hosts Clarkson University at 6 p.m. to begin the Max Ziel Women's Basketball Tournament at Max Ziel Gymnasium in Laker Hall. The Lakers hope to advance in the tournament on Saturday with a win against Clarkson.