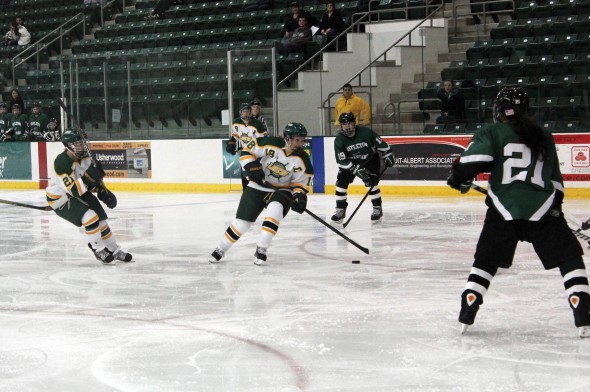 It took some time for Oswego State women's hockey senior captain Olivia Boersen to start playing hockey, but she's had a knack for life on the ice since she was a toddler.
"I started playing hockey when I was around 13," Boersen said. "I used to play Ringette and I figure skated before that, so I've actually been skating since I was two."
Boersen's late start in hockey blossomed from a push from some of her family and friends. She was already involved with Ringette, a Canadian game similar to hockey, and enjoyed being in a team-like atmosphere.
"I think growing up and being a part of some sort of team, whether it was Ringette or hockey, was a part of it," Boersen said. "Having those friends was a big part of it and my parents were a huge part of it, too. They were always so involved with my sports and kept pushing me to do more."
After discovering that she loved the game, Boersen joined some hockey leagues and played in high school. She had no trouble finding a league to join.
"It's so different there than it is here (in Canada)," Boersen said. "There's just teams that are everywhere, so it was more available to me."
Boersen started to progress on the ice after joining a team, which, in Canada, is more of an accomplishment than playing on a high school team, according to Oswego State women's ice hockey coach Diane Dillon.
"High school hockey, in most parts of the states in Canada, is not very good," Dillon said. "It's all about the club teams that are the premier teams."
Boersen's play on the ice started garnering recognition when she was part of the Midgets team, a well-known team in the area. Up until this point, Boersen never considered going to school to play hockey.
"I think I started getting emails and talking to coaches when I was in Midgets," Boersen said. "I think playing in juniors is when I started talking to more people and kind of open a couple of doors and realized I could go further than where I was."
Boersen became a highly sought-after commodity after deciding to continue playing in college. Schools ranging from Oswego State to SUNY Potsdam and even to Elmira College came knocking on Boersen's door, but she could tell Oswego State, in particular, was interested.
"Honestly, I had it narrowed down between a few schools that I was seriously talking to," Boersen said. "Oswego showed a lot of interest. They were at a lot of our games."
Dillon said that showing Boersen how much the school wanted her was a priority and sent the team's assistant coach to all of her games.
"We basically stalked her," Dillon said. "Our assistant coach Joe Heydenberg was probably at every single game."
Dillon said Boersen's energy and work ethic on the ice caught her eye and she envisioned the Stratford, ON native as a team leader.
"We were at a point in the development of our program where we were only fours old an we were looking for a captain. We knew that Olivia could be a potential leader for this team and any time you could find a hockey player that has that combination of potential leadership skills and desire, tenacity and skill – that's the whole package."
Boersen knew she was interested in Oswego, but did not know what the school, or any of the other schools from N.Y. that recruited her, would be like.
"I had no idea what Oswego was like and I didn't really know much about any schools in New York, in general," Boersen said. "Once I started going on a couple of official visits, I guess I got a little better idea for the feel of it."
Boersen credits her good friend and both old and current teammate Jocelyn St. Clair for her decision to commit to Oswego State. St. Clair convinced Boersen to choose Oswego after calling coach Dillon.
"Jocelyn kind of pushed me in this direction," Boersen said. "She pinned me down while she called coach and basically forced me to commit."
With her decision to become a Laker finalized, Boersen was ready to make the jump to college.
Boersen needed to find a way to balance all of her schoolwork with the responsibilities of being on a Division III hockey team.
"It's always difficult," Boersen said. "One of things we always talk about is time management and staying on top of your work. But I think being ready to go away from home and having people here that I knew helped."
Boersen recalled preparing for her first collegiate game and going through the team's tradition and said it was a moment she would always remember.
"It was a great feeling," Boersen said. "We have a tradition that our upperclassmen hand out our jerseys for our first home games and that's something you don't forget."
Once Boersen stepped on the ice, everyone started to notice her talent. As a freshman, Boersen posted 12 points – three goals and nine assists – in 25 games played.
Now a veteran entering her sophomore season, Boersen was awarded more responsibility from her team and was named an assistant captain for the 2011-12 campaign.
"I think it showed that my teammates had trust in me," Boersen said. "It was kind of a transition period for me, but it was a role I kind of wanted to fill."
Dillon approved the team's selection of Boersen as an assistant captain.
"To be named a captain during your sophomore year – that's a lot to handle," Dillon said. "We use a method here where the team gets to voice its opinion and I agreed with the team that she was an excellent choice to lead the team."
While Boersen did not record as many points as her freshman year, the sophomore continued to grow into her new leadership role, which would extend into her junior year.
After being named the team captain at the start of the 2012-13 season, Boersen had a career year for the Lakers. She recorded seven goals and nine assists en route to a 16-point season.
The Lakers were forced to deal with a shortened bench after injuries and an already short roster, which led to more ice time for players such as Boersen.
"It goes back to having a short bench," Boersen said. "We were kind of forced to step up. Someone had to put up points and chip in and you're bound to get some garbage goals and everything with all that ice time."
Now a senior, Boersen is eager to advance in the postseason after clinching playoff berths in each of the past three seniors. The Lakers may be set to make a run with a solid blend of veteran leaders and young players, Boersen says.
"I think we have the best opportunity since we've been here to go as far as we can," Boersen said. "We just have to bear down and get some wins."
Boersen has gotten off to a strong start in 2013-14 season. She currently leads the Lakers with three points – two goals and one assist – after just two games played.
"She is really starting to come into her own," Dillon said. "As a coach, I get to see these players grow from their freshmen year and watch their progression in their lives and hockey careers. She's playing with a confidence that she's never had before and she's having fun."
Including the 2013-14 season's opening games, Boersen has played in 74 games during her tenure as a Laker. She has recorded 14 goals throughout her career and has registered 24 assists, which is the third-highest mark in the program history. Boersen's 38 career points is the sixth-most in program history, something that Boersen said she could care less about.
"I'm not really all about the stats," Boersen said. "I didn't even know that, to be honest."
Boersen has always been a great talent on the ice, but it's her talents off the ice that have made her into a special player.