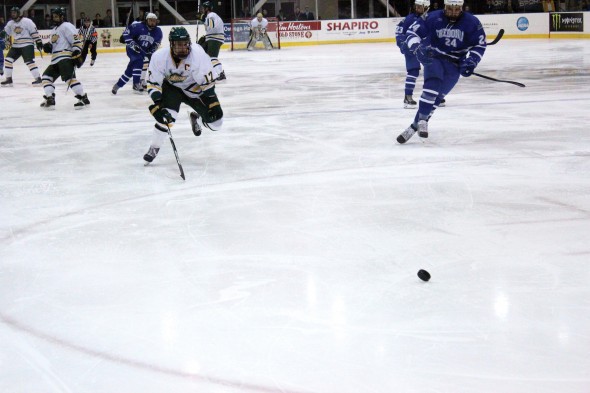 If anyone wants a definition of the Oswego State men's ice hockey team this season, look no further than the team's captain, senior David Titanic.
Titanic is an A student in the classroom and a productive player on the ice a student and an athlete, just the way his coach likes it.
"He's our leader for a reason," men's ice hockey head coach Ed Gosek said of his senior captain.
"He's got great morals, a great work ethic and he is a 4.0 student in the classroom. He brings a high competition level in practice every day. He's consistent in practice. He's proven to be a big-game performer. He performs under pressure."
Titanic wears the "C," symbolizing his captainship for the Lakers this year, with pride, and hopes to continue to be the player Gosek describes.
"It's an honor. The program has great tradition and so many great captains," Titanic said. "I'm proud of it. I just want to be the guy the younger guys can look up to. They can appreciate the hard work I put in and I can be a good influence on them going forward."
Gosek and the team will look for their leader to be a role model both on and off the ice.
Oswego State lost a great deal of its offensive production after the class of 2013 graduated and Titanic is the most decorated returner, with 33 career points.
Mostly a penalty killer in his first three seasons, Titanic looks forward to stepping up his offensive game during his final campaign and said he thinks he can contribute at a high level.
"It's going to be nice to step out of the shadow of all those guys who were here with me," Titanic said. "I've always penalty killed and I still want to take pride in that, but I think I can contribute more offensively this year. I think I can be a guy who chips in on the power play, on a line that out works the other team and chips in offensively."
Gosek, while aware of the added weight of being a captain, thinks his "coach on the ice" can make a splash for the Lakers during the 2013-2014 season.
"We hope that, points-wise, he can produce more because his role has changed," Gosek said. "Instead of being a solid third-line energy guy, shut down guy, a good defensive guy, he's going to be with some better players because he's a senior, because he deserves it, because he's captain and because he's got a good skill set. He's not great at anything, but very good at everything."
Part of Titanic's all-around skill set is his ability to play solid defense, epitomized by his impressive penalty killing thus far as a Laker. He recognizes his team's defense will be crucial this season, in particular because Oswego State has such a young goalie core.
"I think that as a team, we have a lot of work to do in our defensive zone," Titanic said. "I think that it comes with discipline, knowing all the responsibilities, knowing all the routes that these new guys have to take."
So far, Titanic seems to have led his team well, as the Lakers hold a 92.3 penalty kill percentage and have only allowed one power play goal on 13 chances in three games. The Lakers' numbers are good enough to rank them third in their conference and 16th in the nation.
As part of being team captain, the Markham, Ontario native understands it is up to him to teach the new forwards how the Lakers play defense.
"It's going to be my job to be a mentor for them on how to play sound defense in our D-zone," Titanic said.
"I think what's going to be a big thing for me is making sure I'm communicating with our guys in the D-zone, making sure I'm playing sound defense, and blocking shots when I have to and finishing my checks."
Although Titanic has concerns about his final season, he still sees a lot of positives for Oswego State.
"I think we're going to be very fast upfront," Titanic said. "We're going to be a team that's in your face. With our defense, I think we're going to be able to put out six good defensemen no matter who we're playing. We have three goalies who I think will be able to still games for us throughout the season. I like the way they've looked so far. I have confidence in all three of them."
While the 2013-14 Lakers has to work in their new players, they can count on Titanic to lead the team back to the SUNYAC playoffs.
"I think obviously we're going to be a young team," Titanic said. "We've got 19 freshmen so they bring a lot of energy and a lot of excitement, which renewed my spark."