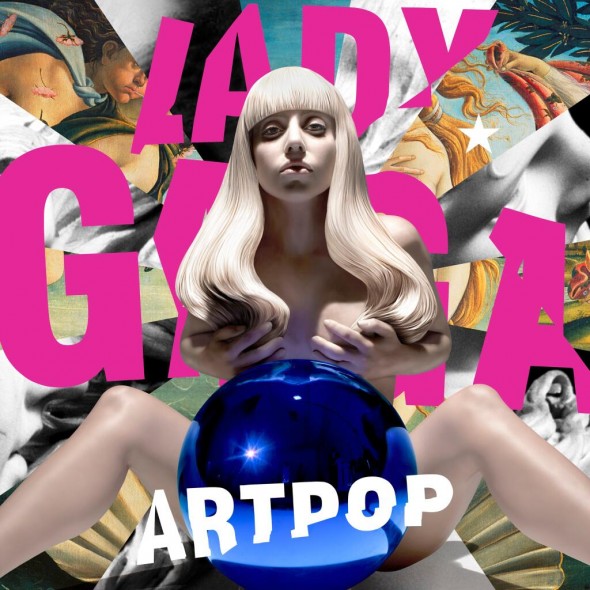 When Stefani Germanotta, known by her stage name Lady Gaga, announced that she would be releasing her fourth album on Nov. 6th, the wait for her newest creation became the focus of the music industry. Article after article, many wondered what was to come from the "Born This Way" singer. Between her odd outfits and even odder music, the 27-year-old had a lot to accomplish if she ever wished to step up from her previous three albums.
The resulting album, titled "Artpop," is, for a lack of better words, unique. In fact, "Artpop" may be the most diverse record to come from the young artist. On this album, Lady Gaga turns even more toward the direction of synth-pop that she has become characteristically known for. However, "Artpop" and its tracks are sometimes messy in their ambitious range.
It is as though "Artpop" is a compilation of music with little to no cohesion.  Both on an individual track level and as a whole, "Artpop" is chaotic. But "Artpop" does offer unconventional and terrific tracks that are both entertaining and enticing.
Emerging from the album are quite a few diamonds in the rough and, after picking through the clutter, the songs on "Artpop" could be favorites for many Gaga fans.
The lead single off of the album, titled "Applause," will have listeners reminiscing about classic Lady Gaga tracks like "Just Dance" and "Poker Face." Nothing is all that revolutionary about "Applause," but for an album filled with new and different sounds, the track provides the album with a song that will help Lady Gaga connect with a much larger audience than some of her more peculiar tracks will. It revisits Gaga's dance-type pop music that she is so                                                                     famous for.
The album's greatest track is "Swine." With hiccups layered into the music and intense synthetic instrumentals, "Swine" may be one of Gaga's greatest tracks to date. There is a very real anger in the content of this song. As the subject of the track's lyrics, according to Gaga, is a "pig inside a human body," "Swine" is a breakup song that will leave a mark.
"Dope," which shares similarities with Gaga's super-hit "You And I," is the album's love song. The simple beat mixed in with Gaga's classic piano playing is actually quite emotional. As she sings of needing someone "more than dope," the addiction faced by the artist is clear. "Dope" is Gaga truly reeling it back, and that is a good thing when looking at some other tracks on "Artpop."
Just as "Edge Of Glory" was more or less an anthem for Gaga during her "Born This Way" days, "Gypsy" is the anthem of "Artpop." Sharing many similarities with "Edge Of Glory," the song opens with Gaga's powerful vocals and quiet instrumentals. However, as the song builds, so does the volume of the music. Like fireworks exploding in the sky, "Gypsy" is as "pop" as pop music gets.
"Fashion!" is one of the worst tracks on "Artpop." The song sounds as though it is a sampling of different demos that never came to fruition. "Fashion!" is a disarranged jumble of a song that goes along with the tangled theme that is present throughout "Artpop." This track seems unnecessary.
The title track of "Artpop" is one of the album's least alluring. It is almost too similar to Selena Gomez's "Love You Like a Love Song." Both use a slower beat and more lackadaisical vocals which, in turn, lead to a sound that is more produced and corporate rather than meaningful or spectacular.
"Mary Jane Holland" is a rather unfortunate and uncharacteristically ludicrous track for Gaga. When an artist insists that "she is rich as p***," it becomes clear that some things should not be included in lyrics. The fact that "Mary Jane Holland," uses this very lyric when addressing the fact that her parents think that she is a mess does not put her in a good light. "Mary Jane Holland," is not so bad as a whole; in fact, the song could be quite good. But, between the messy lyrics and odd synthetic beats, "Mary Jane Holland," portrays the supposedly deep artist as a ridiculous and laughable one instead.
Is "Artpop" the greatest album ever? Maybe not, but, if listeners can see past all of the untidiness, "Artpop" may have a little to offer everyone. By disregarding tracks like "Mary Jane Holland" and "Fashion!," the sixteen-track record does have some worth and quite a few gems despite its lack of cohesion.