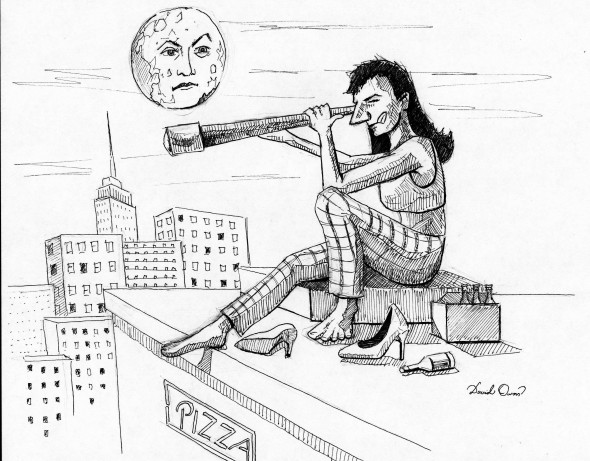 Neighborhood Watch
By Julia Nuzzo
I live in the central hub of a college town and it's quite entertaining, but of course it has its drawbacks.
The late night loud and drunken roars of townies and students alike makes sleep next to impossible. The smell of burnt tomato sauce and rotting garlic from the pizza place below me fills my apartment and is impossible to cover. My bathroom ceiling leaks when it rains. And of course, I hate the rambunctious drunkards that break into my hallway and cover the stairs with garbage. I may hate living inside my stuffy, poorly insulated apartment, but I do love my rooftop.
Every weekend, I will perch myself on top of my roof and observe the scenery below me. I like to think of myself as the local neighborhood watch. I live in a small city in Central New York that is riddled with its fair share of economic issues and an abundance of drunken college co-eds.  This locale on the peak of Bridge Street Pizza makes for some glorious people watching.
On a typical day, I watch the obnoxious pre-teens playing in the middle of Route 104, taunting the cars passing them by. And did you know that in Oswego it is 100 percent appropriate to wear pajama pants no matter where you are going?
But at night, it all changes. My rooftop view is prime for observing drunken college students roll out of bars until the wee hours of the morning. Something I can guarantee you will see is a falling drunk girl. These twenty-something bimbos usually wear heels that are too high, skirts that are too short and makeup that is melting down their faces.
They stumble to the bars filled with cheap drinks and cheaper men and hope they don't notice that their knees are bleeding from the terrible fall that just ensued. These girls are not always clad in their highest heels, however; oftentimes they are completely shoeless.
These shoeless Joannas will often be carrying the shoes that they couldn't quite commit to in their vodka-soaked hands, or they will be throwing them at their significant others in a fit of intoxicated rage. From these women, I would like to know the following: Why did your friends let you leave the house like this? Do you have friends? Where is your mom? And what shoe size are you? Because those kicks are fresh.