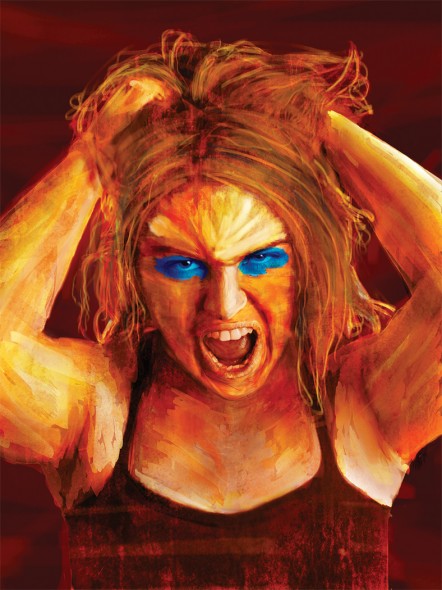 The second iteration of Graphic Flash is up in Penfield Library and will stay there until Dec. 8.  This collaborative event brought together upper-level creative writing and graphic design classes to make a unique gallery.
Writers from one class made extremely short "flash fiction" stories, and were randomly paired with art students who transformed the words into an image.
At the opening on Friday, everyone who was involved in the project gathered at the library to meet their creative counterparts and see the stories and artwork hanging side-by-side.  In a relaxed atmosphere, much less jam-packed than last year's opening in the downtown campus building, artists, writers, and visitors took their time admiring the pictures and leaning in to read the fiction.
Flash-fiction is a medium that tells a story in short moments. This semester, those moments encompassed conversations in diners, trains and porn dungeons, action-packed sword-and-sorcery, minimum-wage hell, a kid on a playground, descents into insanity, love-struck letters and desperate snail touching. All of them fit beginning, middle and end into an astounding 250 word limit.  The demand on each word is greater, but overcoming the challenge of brevity offers some refreshingly sharp stories.
On the graphical side of the event, the challenge was finding creativity while staying true to someone else's idea.
"You need to express yourself as an artist, but at the same time you're given a piece to work from, so it's not exactly a free-for-all," art student Olivia Basile said.
However, flash fiction's compressed form usually leaves a lot of the story to implication. While some artists found an equally concise, literal image to convey the heart of the story, others eschewed direct representation and played with that ambiguous gap between the words and the imagination.
"It was completely different from what I would have expected," creative writing student Desiree Alcala said. "I thought it would be a scene from the actual story, but I don't think that's a bad thing."
Some artwork expanded on the story or even changed how someone might read it. The story "A Dish Too Cold to Hold" concerns a warrior on a quest for vengeance against the troll that ate his family.  However, instead of the icy, dark cave in the prose, the accompanying "Portrait of a Troll" depicts a sleepy, grandfatherly monster lounging by a bright hearth in his rocking chair.  The cute, storybook style contrasts the violence to come and ambiguous meat on the table is the only hint of a darker subtext.
It is that push and pull between the creative disciplines which makes Graphic Flash such a fascinating event.  It brings two communities together and shows them what they have to offer one another.
"I didn't know the person I got the writing from, so to try to get into their mind, to create something, was completely an experience I never had before," art student Lindsay Pesner said.
Hopefully, collaboration of art and creative writing departments will continue for years to come.