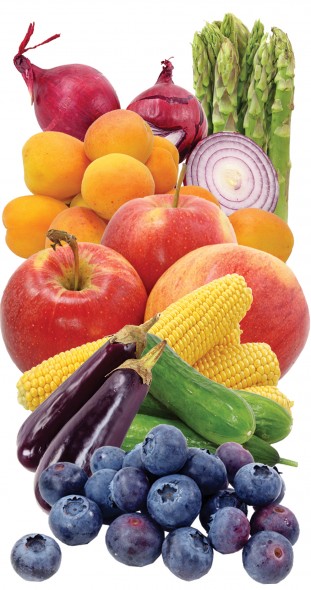 Oswego State is among three other SUNY universities preparing to take part in an initiative promoting an increase in locally grown foods at campus institutions.
Spurred by a $99,427 federal grant given to the American Farmland Trust to increase market competitiveness for local farms, the pilot program hopes to bring more healthy and sustainable food items to Oswego State, SUNY New Paltz, SUNY Oneonta and SUNY Albany.
Glenda Neff, who works with the AFT in Auburn, said the pilot program will focus on finding ways fresh fruit and vegetables can be brought to SUNY campuses. The pilot program will seek to identify products that are being utilized by campuses currently, as well as possible ways, either through new produce or farming techniques, more products could be introduced to SUNY campuses.
"The benefit for the farm will be that if they know they sell more of one crop they will be able to grow more and know they have a stable market and a stable volume for that crop," Neff said, adding that increased productivity for farmers helps the local economy through the increasing amount of supplies they purchase.
Oswego State, through the programs it already has in place, was a natural fit for the program.
"What we see in Oswego County is that there are a lot of fruit and vegetable farms, more than many counties have, and SUNY Oswego dining services is already doing a lot to purchase from them," Neff said.
Auxiliary Services, which runs all of Oswego State's dining facilities, has worked with Oswego-based distributor C's Farms to bring local fruit and vegetables into the dining halls since 2003.
"It's basically things we have already been doing," Craig Traub, the director of resident dining for Auxiliary Services, said. "So we're just going to be working harder in this area."
Last year, Oswego State used 1,200 tomatoes, 7,000 potatoes, 240 watermelons, 120 pints of blueberries, 4,248 gallons of apple cider, 20,000 apples and more, including flowers.
"I don't have anything but New York apples," Traub said. "A few years ago I might not have been able to say that, and it was embarrassing when you have the Washington Apple, but we don't have that anymore."
The partnership with C's began in 2003 and has grown since then. Dave Johnson, the owner of C's, says his business has grown though the partnership, allowing him to bring in additional employees and purchase new equipment.
Johnson pointed out that many other colleges rely on national supplies for food, who don't usually buy local products.
"Why not eat the apples that are on the trees right here," Johnson said, adding that Oswego State's system keep the money in the community while providing better food.
This year, C's began providing Oswego State with local eggs from Hudson Egg Farm in Elbridge, where previously the eggs were being purchased from a farm in Pennsylvania.
Traub said that through local purchasing, everyone involved benefits.
"You're doing business with local people … C's Farms is getting paid by us, and that's money that is staying locally," Traub said. "So there's an economic piece and the other piece is that you've got fresh foods and fresh foods are good for you and they don't have the pesticides, or not as much anyway, and the fact that the transportation costs are less from a sustainability standpoint."
Jamie Adams, the sustainability coordinator at Oswego State, said the school has done an "impeccable job" of purchasing local goods, which has bolstered sustainability efforts at the school.
"A lot of the food that we eat is very processed, it's packaged, it has no expiration date, so when you start talking about real farm-grown produce, you automatically start talking about healthier food for our bodies," Adams said. "So that's one part of the reason it's tied to sustainability. It's tied directly to sustainability also in the sense that we are supporting the local economy."
The sustainability office will have a large role in the implementation of this grant, as plans have been put in place for the office to lead the promotional efforts for fresh, local food on campus.
Neff said that a stipend in the pilot program will fund additional positions to be filled by students at all four universities that will raise awareness of the value of purchasing local products. For Oswego State, that promotion will go through the sustainability office.
"The important goals for these projects are that the farmers will obviously see more business and grow more for the local markets," Neff said. "But also that the campus community, the students and the faculty, see how good the food tastes and become loyal customers."
Adams added that students likely will also grow an appreciation for the work put into providing the produce, leading to less waste.
"It's an all-you-care-to-eat dining system," Adams said. "But let's not waste it. It just came from up the road, you could have picked those yourself."
In addition, those involved with the grant are hoping students will grow to appreciate the quality locally sourced products.
"I think students will care, I think it will first occur to them to care when you find out the tomato you are eating came from ten miles down the road versus San Bernardino," Adams said. "…That the first thing I think students will recognize, that food from 10 miles away, or even 50 miles away, is better."
Neff hopes that these students will take that newfound preference for local foods beyond their time on campus.
"When they leave the college and go on to their careers, that they seek out and enjoy local fruits and vegetables and realize how important it is to the local farms, and I'm sure we'll get into talking about how good it is in terms of a healthy diet, but our focus is going to be on the taste of the food," Neff said.
More details related to implementation of the program will be developed at a conference in December, but for now, Traub said Auxiliary Services will continue to look for new ways to introduce local product to the dining halls.
"We are having a lot of fun with this," Traub said. "We think we are doing some really good things and doing some right things and supporting local businesses and local farmers."