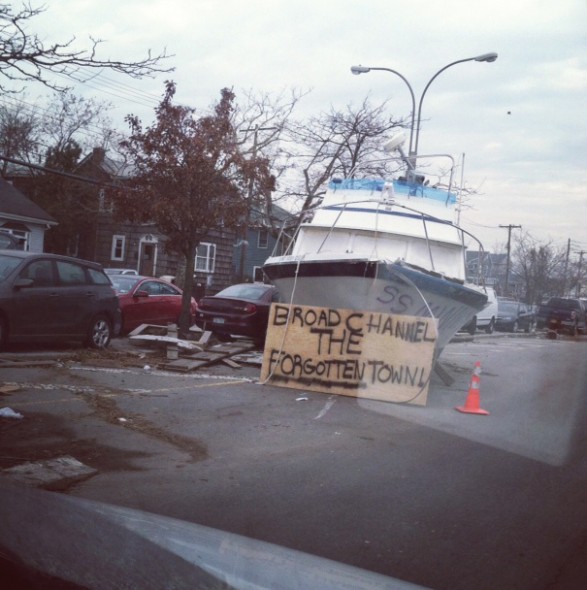 It has been one year since Hurricane Sandy made landfall on the Eastern seaboard of the U.S., a superstorm that reeked havoc on hundreds of cities and millions of people from the tri-state area to as far inland as Michigan. A storm that's life lasted only two weeks left an ongoing aftermath. The journey to recovery has been long and difficult in one year's time.
According to CNN, Hurricane Sandy killed 117 people in the U.S., the majority of which lived in New York state. Eight and a half million people lost power. In addition, Sandy was the lowest barometric reading ever recorded for an Atlantic storm to make landfall north of Cape Hatteras, N.C.. The surge level at Battery Park in New York City broke a 52-year-old record at 13.88 feet and caused the New York Stock Exchange to close for two consecutive days because of a weather-related event for the first time since 1888. According to the National Climatic Data Center, Sandy cost $65 billion in damage, second only to Hurricane Katrina as the costliest disaster ever to hit the U.S.
At Oswego State, Sandy caused wind damage, minor flooding and the college issued a campus-wide class cancellation for the first time in four and a half years. An abundance of Oswego State students live in the New York City and surrounding areas like Long Island, where Sandy hit with devastating force. Students said a big problem was that the loss of power interfered with their communications back home while they were at school.
"Hurricane Sandy affected me by the fact that since I was here in Oswego, I had no clue what was going on at home with my family," sophomore Jamie Kraus said. "I could not get through to them for three days and I was so afraid."
Kraus lives in West Babylon on Long Island, where many homes were heavily damaged and had to be demolished and rebuilt. Kraus's home luckily only saw some basement flooding and had to replace her roof, which was ripped up from the wind.
"Many homes had to be torn down and redone," Kraus said. "It is the same but there are now a few new houses around. Nothing much is left to be done. We pulled together to fix up the town. There are still some houses that were right on the water that still have some stuff to be done."
Sandy's wrath left a lot of people displaced. According to the Federal Emergency Management Agency, 23,000 people sought refuge in temporary shelters. As of Oct. 15, 2013, more than $1.4 billion in individual assistance has been provided to more than 182,000 survivors, and an additional $2.4 billion in low-interest disaster loans have been approved by the U.S.
"I had a family friend staying at my house for about eight months," Brooklyn native Tai Pate said. "Her entire apartment was flooded and she lost everything. Right now her apartment is fixed up and she is moved back in, furnishing her place little by little."
Returning people to their homes still remains one of the biggest and most difficult objectives. According to the Los Angeles Times, officials announced last week that the U.S. Department of Housing and Urban Development (HUD) would provide $2 billion to fund home and business recovery from Sandy. At least 80 percent of all HUD funding would to go to Long Island and Rockland County. HUD gave New York state an initial $1.71 billion and New York City $1.77 billion in separate funding earlier this spring.
From the time the storm hit through Sept. 30, 2013, the Red Cross provided over 300 emergency vehicles, 17 million meals and snacks and 17,000 trained disaster workers.
Several Oswego State students set up various types of donations and fundraisers to send to the people in need in the days and weeks after the hurricane. In December, art students offered small prints of original artwork for sale at Oswego State Downtown. Graduate student Bailey Smith, inspired by her mother and uncle, set up a collection site at Long Beach on Long Island to gather a rental van-load of food, water, winter clothing, batteries, blankets and more, and even drove there one weekend in November.
"The trip I took down to Rockaway Beach was in attempt to help people who were not being helped by the Red Cross," Smith said. "People were donating money, but the money wasn't actually getting them what they needed. I knew this from friends who lived down there and were contacting me. My boyfriend and I took it upon ourselves to gather supplies and make a trip down to see it for ourselves and help out with whatever we could. It ended up being that we just dropped off food, clothes, cleaning supplies, etc. and left because it was very unorganized and hectic. Police were basically waving us out after we dropped the supplies off. People were also swarming our rental vehicle asking us for water and paper towels."
Smith also said that she couldn't comprehend the situation until she went down there and saw the damage and injured and hungry people. She said it was a surreal experience.
"I know things are not completely back together from the hurricane still, but I am glad I went down and did what I could and saw it myself," Smith said.
Erin Walls and Sigma Delta Tau organized a red ribbon sale in order to raise money, prompted by one of their sisters that lost their entire home.
"We raised around $250 and gave the money to the American Red Cross," Walls said.
Where things go from here is a difficult question. There are still parts of the northeast where relief has been relatively scarce. According to Crain's New York, almost one-third of the businesses on the Midland Avenue strip remain closed and many in the area will probably never reopen.
"I know that people are slowly moving into new places and getting old homes fixed up," Pate said. "I've seen that the government gave many people that I know a hard time in the beginning but they seem to have pulled through."
Pate also said that to prevent future events like these, precautions like flood insurance would be helpful. In June, New York Mayor Michael Bloomberg laid out a long-term plan to safeguard and fortify the city's 520 miles of coastline from rising sea levels and future storms, according to The Economist.
Hurricane Sandy changed the map of the Northeast, the way the government responds to modern emergencies and also affected the way that it people think and feel, even one year later.
"I learned that you always need to be prepared for everything," Kraus said.
Some people say Sandy, like other disasters, brought people closer together and that is no different now than it was a year ago.
"One thing that did change was more unity amongst the neighborhood," Pate said. "Everyone tried to help each other during and after Sandy."