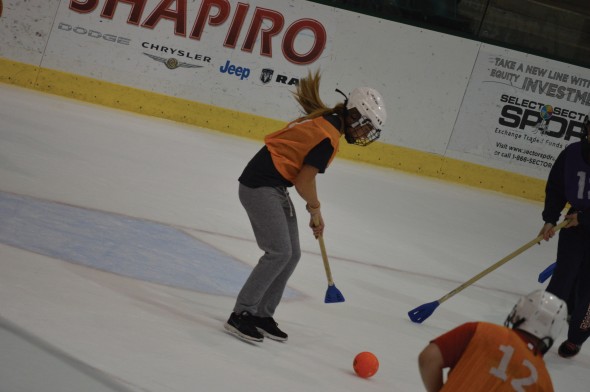 Both the intramural broomball and flag football leagues are in the midst of their seasons and favorites are beginning to emerge in each league's divisions.
In co-rec competitive broomball, five of the 12 teams captured a win in their first contest.
Spank that Donkey Kong showed offensive prowess with a convincing 6-2 defeat of Waterbury Bears.
Eskimo Family easily disposed of Worthington 5-0, and Multiple Scoregasms recorded the most goals in the first week of action with a 7-0 blowout of Dusty and the Slayers.
In the co-rec recreational league, Ice Holes have won their first two games of the season, notching victories over Broombrawlers and The Horde.
Thirsty Turtles, the only other team without a loss thus far, stands at 1-0 after beating Sticks and Chicks 4-1 in their opening contest.
There are seven teams set to compete in the men's competitive division. Snipe Chirp Cele is leading the pack thus far with a 2-0 start.
Snipe Chirp Cele recorded a solid 3-1 win over Rolltiders and followed that up with a 6-1 victory over Pwoi Eaters.
Charnugs and Spank that Donkey Kong are right behind them in the standings with each team at 1-0.
In the men's recreational division, two teams have emerged as contenders in the first two weeks of action. Both Shot Gromits and Icrbrawlers have used dominant offensive performances to jump out to 2-0 starts.
Shot Gromits beat The LaBatt Blue's and The Soviet Missles by a combined score of 24-1. Meanwhile Icrbrawlers have been impressive as well after 5-0 and 5-1 wins in their first two games.
Meanwhile, the men's competitive flag football division is heating up. Five teams are yet to lose a game, while seven more only have one loss.
Hellhounds led the way at 5-0, while Dillon Panthers is 4-0. There are three more unbeaten teams, all with three wins and no losses: The Guild, S.O.D.M.G., and Channel 5 News.
The five-team men's recreational league has just two teams over .500 thus far. Eskimo Brothers is currently sitting on top of the standings with a 4-2 record, while Hernandez Pistol Offense is just a half game back at 3-2.
However, in the team's three meetings thus far, Eskimo Brothers has prevailed in two of them, winning the two contests 20-13 and 32-18 respectively. Hernandez Pistol Offense managed one win, 34-26.
In the co-rec division, Daddie$ continues to shine with a 3-1 record this season. Ball Crusher sit in second place at 2-1, while Balloholics and We Touchdown There have yet to pick up a win.
Play is set to resume this week.