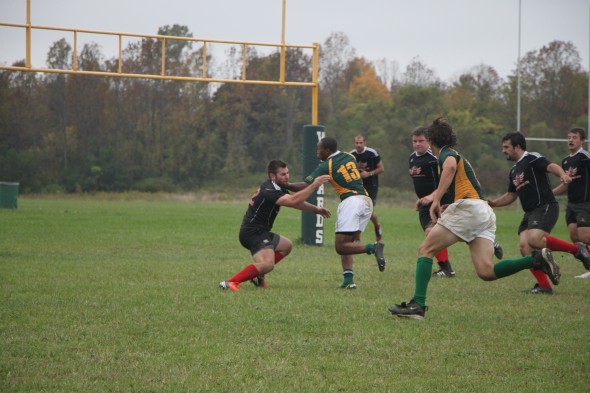 If a person wants to know anything about Tyrell Moore they should ask anyone but him.
The Oswego State men's rugby senior captain is not a big talker. Instead, he lets his work ethic during both games and practice define him.
"He leads by example," Nick Holz, Moore's fellow captain, said. "He's a great teammate. He's always trying to help everyone else out. He's one of the most unselfish guys on the field."
The epitome of Moore's selfless personality is the fact that his favorite memory with the Wizards is when former Wizards' captain Rob Ruhland scored during  Oswego State's trip to the state championship last fall.
Moore looks back fondly on that moment because he does not believe it could have happened to a better person. Ruhland was a captain that Moore hopes to emulate in his senior campaign.
"He was the best captain and best person on the field as a player and person," Moore said. "He did a lot on and off the field to get us there."
Even though Moore has quite a bit of championship experience, his focus down the stretch is not the 2013 postseason. He is zoned in on the Wizards' final two regular season games.
"I'm not even looking to the playoffs," Moore said. "I just want to roll into the playoffs. You don't want to look past the next game."
Although the Queens native is a seasoned, dedicated veteran now, Moore has not always had the solid combination of speed and vision at the back of the Wizards formation.
"When I first came out here, this field was huge," Moore said. "It's the biggest field I've ever played on. Now I can see sections of the field better than I did the first time I came out here."
On top of improving his game, Moore has also grown to become a solid captain, mostly through watching the team's previous captains, such as Ruhland.
He believes the best captains practice what they preach and should lead their team by example.
Moore ensures he reaches those standards by continuing to study the game. He constantly takes time between classes to learn the small nuances of the game, so he knows more every time he steps on the pitch.
Moore's play is inspired by two of the better national teams in the world, England and Australia.
When it comes to the English squad, Moore likes its fly half, Owen Farrell, and "hard-nose outside center," Manu Tuilagi.
The chemistry and knowledge the two possess set the bar for where Moore wants to be some day.
As he looks into his future, the political science and communications major, believes his time with the Wizards has been useful.
He believes the Oswego State men's rugby program is a "band of brothers."
He saw that in his freshman year and now is leading that charge in his senior campaign. Moore believes being the team's leader this season will help him in life.
"Going forward, you know you've led a group of people and you know that you have people who have your back and that's what you want in life," Moore said.
When he leaves this program after this season Moore wants to be remembered as a smart player and a leader on the field.
He wants to be the player who did what he had to do on the pitch, no matter what, with full speed and no regrets.
In his four years at Oswego State, Moore's only ever had one speed on the field: "fast."