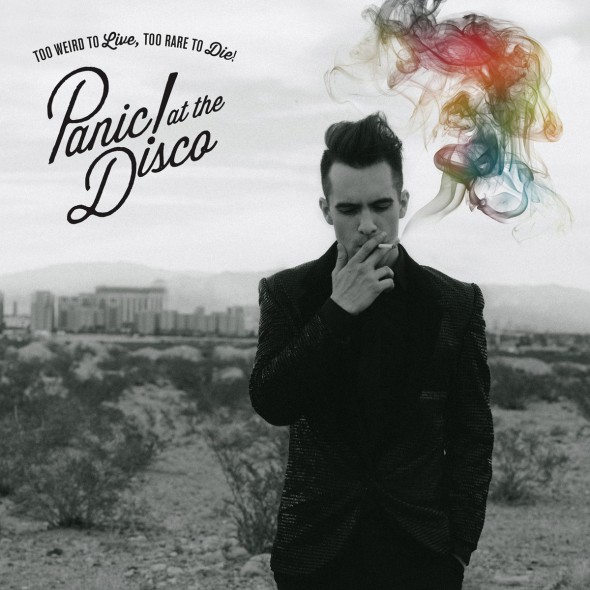 Panic! At the Disco's fourth album, "Too Weird To Live, Too Rare to Die!" was released Tuesday. It is, on the whole, a return to form for the band, with some of the songs sounding just like its first album, "A Fever You Can't Sweat Out." It's a lot more techno and beat-heavy, relying much more on electronic sounds than their last two albums.
The first song on the album is "This is Gospel." It's very recognizable as the band's style and is less processed-sounding than other songs on the album, relying more on the band's musicianship than bells and whistles. It's also got the great, poetical lyrics that the band is known for.
"Miss Jackson," featuring Lolo, comes next and is an impressive song with a large chorus that adds to the sound and fills it out nicely. Panic! At the Disco knows how to utilize outside choruses to its advantage in a song. Lolo's voice compliments lead vocalist Brendon Urie's well, and though she doesn't sing much, it's a nice touch to the song.
"Vegas Lights" and "The Girl That You Love" are mostly forgettable. They have good beats, but nothing to really set them apart. "The Girl That You Love," with its synthesized sound, is the most electrical and techno-sounding song on the album.
"Nicotine" isn't much of a standout track either, but it has a prettier sound and more impressive lyrics than the previous two tracks. Although the chorus is rather repetitive, it has nice verses to make up for it.
"Girls/Girls/Boys" is an interesting song and probably the most divergent from the usual standards for the band. While not a completely different sound, it is a repeat of more of the same like some other songs on the album. It also shows Urie's impressive vocal range.
"Casual Affair" is another heavily electronic song, almost losing the vocals in the overdone sound. The band makes interesting use of some background violins that would have been better if used more, instead of the deafening beat that drowns out Urie.
After two more songs, we finally get to a slower-paced song in "The End of All Things." It's a hauntingly beautiful piece with layered vocals that capture the listeners completely. It's a nice show of the true musicality of this band. The album could have benefited from a few more songs like this, showing off the true talent of its members, rather than just catchy dance songs.
It's a bit disappointing that Panic! seems to have lost most of the sound it discovered in "Pretty. Odd" and "Vices and Virtues." "Vices and Virtues" was a great mix of the more upbeat dance music of "Fever" and the more lyrical and experimental "Pretty. Odd." This album seemed to be about the band getting back to its roots.
While some of the songs blur together and don't really stand out, "This is Gospel," "Miss Jackson," "Girls/Girls/Boys" and "The End of All Things" are all worthwhile tracks. Fans of the band will have plenty to enjoy, especially if they like "A Fever You Can't Sweat Out." The album is fun, catchy and there's a lot to like about it. It seems that Panic! is taking a step back rather than forward. Some people might like that direction, while others might not.