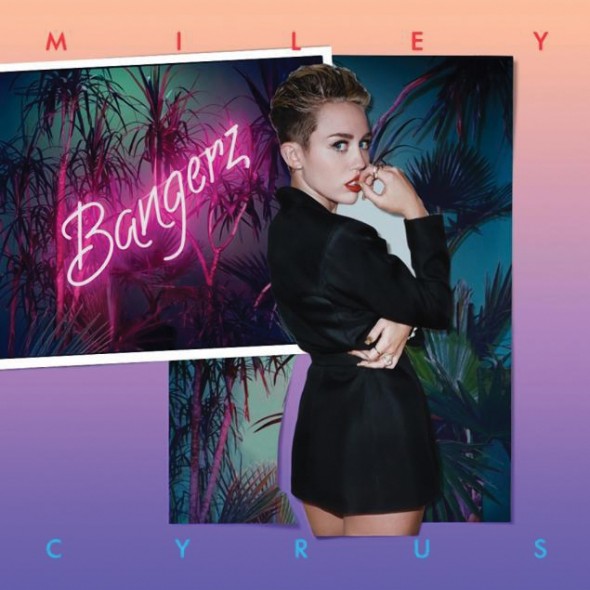 Miley Cyrus' long-awaited album, "Bangerz," has finally made its way to the public.  Released on Oct. 8, "Bangerz" features singles "We Can't Stop" and "Wrecking Ball," as well as 12 new songs from the former country star. Cyrus has recreated herself as an artist, and "Bangerz" is a manifestation of her new sound and image put together for fans to enjoy.
If you're looking for anything similar to the old Miley, then "Bangerz" is not the album for you. "Wrecking Ball" and "We Can't Stop" were just a taste of what Miley's new album has to offer. Cyrus has almost completely shed her country roots, and "Bangerz" is her first attempt at a different sound.
"SMS (Bangerz)," the title track and third song, was one of the most highly anticipated new songs and is a collaboration with Cyrus' idol, Britney Spears. Unfortunately, the song isn't Cyrus' best work. Spears sings while Miley raps, but Miley fades into the background and Britney takes center stage. The song becomes Britney's, even sounding like it belongs on one of Spears' albums.  The song itself is great, but Miley is not the star here.
"4×4" is another collaboration, this time with Nelly. The song is confusing, and it's hard to tell what Miley is trying to achieve. Nelly is rapping this time, and Cyrus attempts to add a country beat to the song. It feels like there is too much going on and it probably would have been a lot better had she chosen one style and stuck with it.
"Adore You" and "My Darlin'" are two of the best tracks on the album. Miley really shines in these slower songs; her voice is a powerhouse. "Adore You" is the first new song on the album, and it's a song about a young girl in love, talking about her boyfriend/lover. It's a very sweet ballad and worth listening to. "My Darlin'" is much the same, a collaboration with Future and a remake of the original Ben King song. Miley sings while Future raps, and the combination makes it a great remake—a unique twist to a classic.
Though "Wrecking Ball" was the second single Cyrus released and has already been heard and viewed by millions of people, it still stands out among the other songs. Cyrus sounds more mature in "Wrecking Ball" than the rest of "Bangerz," and here is where she is at her best. Even with all the controversy "Wrecking Ball" and its music video have caused, no one has said anything detrimental about the song, and it's doubtful they will. "Wrecking Ball" is Cyrus' best song, not just on the new album, but also including her Hannah Montana days.  Miley is at her best throughout the album when she sings, not raps, and her voice makes the                                    songs worthwhile.
If you were planning on buying "Bangerz," listen to it on Spotify or YouTube first. Don't spend your money without knowing what exactly Miley's new style is. Her new album is extremely different from her earlier work, and while it is good, it may not appeal to all Cyrus fans.  That shouldn't stop anyone from                                      listening, though.