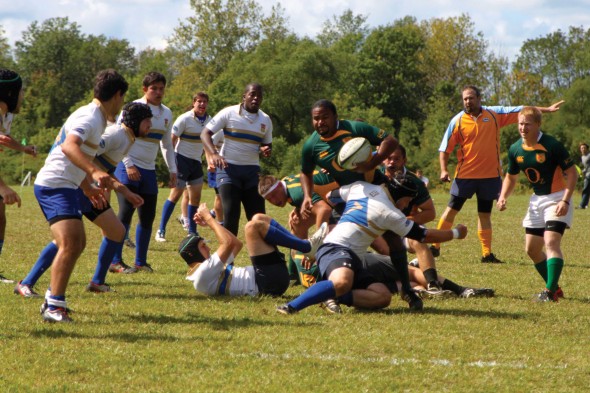 Oswego State men's rugby captain Julian Torriente does not describe his fellow Wizards as teammates, but rather as his brothers.
"Those that bleed with me shall forever be my brother," Torriente quoted William Shakespeare, a quote that has become a rugby adage. Shakespeare's quote strikes right to the core of how Torriente feels about his teammates.
"That's what I get from this team everyday I see them," Torriente said. "Those are my best friends and I hope they'll continue to be my best friends until I die."
Four years ago when Torriente, a native of the Hudson Valley, entered the Campus Center Ice Arena for the Student Involvement Fair, he had a lot of free time, but did not know how to spend it until he found rugby.
A football player and wrestler in high school, Torriente had some of the skills and physical attributes found in rugby players, but knew nothing about the sport. He just showed up to practice and fell in love.
For a newcomer, the flanker was a part of an action-packed season his freshman year. The Wizards' season ran from the beginning of the fall semester all the way to the Division III men's club rugby national championship in the spring.
Although the team fell short in the season's final match, it was "an amazing ride" for Torriente.
Now a senior, Torriente still remembers how accepting his teammates were and wants to continue the tradition of supporting one another both on and off the field.
However, while he wants to mentor the players coming in, a state championship before his graduation in December is in the forefront of Torriente's mind.
"I want the freshmen coming in now to say, 'man when we won the state championship we had Julian Torriente leading us, we had Tyrell Moore leading us and those are the kind of guys that we need leading us as we want to keep moving forward,'" Torriente said.
A risk management and insurance major, Torriente feels that being a part of the rugby team, especially as a captain, has helped him prepare for his future.
In job interviews, Torriente is asked whether he has any managerial experience and is able to turn to rugby.
The fact that he is a part of getting 40 guys to daily practice when they could be off doing anything else is something he feels is special.