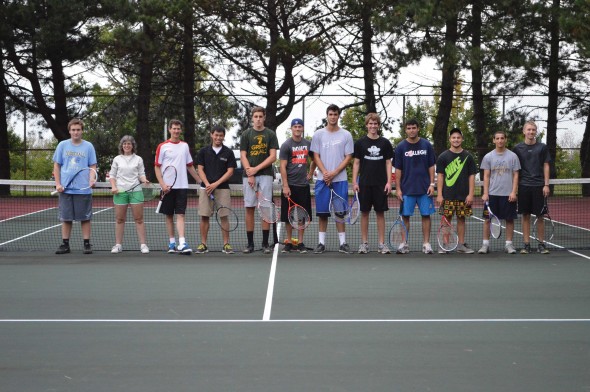 The Oswego State intramural season is in full swing as the competition on campus continues to heat up.
In the Co-Rec Competitive Beach Volleyball intramural league, 12 teams have been competing. In the early going Volleybrawlers, Rack City and The Gypsies have set themselves apart from the competition, each going 5-1 in their first six contests.
In some of this week's key games, The Gypsies took down The Revolution three games to zero, Kiss My Ace battled through a tough contest from We Always Get it Up to take it 2-1, Volleybrawlers swept Young Rackets 3-0 and Team Saget defeated Sets on the Beach 2-1.
Over on the pitch, the standings in all four divisions are beginning to take shape. In the co-rec competitive division, Ball Busters have proven to be the team to beat.
They have defeated all three other teams in the division and have yet to surrender a goal over their first three games.
In co-rec competitive, The Fat and the Furious is 2-0 after knocking off Townies Elite and Freshman FC to start the semester this season.
In perhaps the most intense game of the season to date in the men's recreational division, The Futbol Jedis notched their second victory of the season with a come-from-behind 4-3 win over Dome Kids, due in part to a multiple goal effort from Thomas Adelmeyer.
Meanwhile, there were several competitive games in the men's competitive league this week as Eskimo Brother and Tornadoes played to a 2-2 draw, Team Swagger and Townies tied 3-3 and Free Mustache Rides took down Team Phoenix 2-0 in a low-scoring game.
In softball, Rolltiders and Son's of Pitches have shined early on in the men's competitive division, each going 3-0 to start the year.
Son's of Pitches were challenged this week by a tough Dirty Mike and the Boys team, but managed to scrape by with a close 6-4 victory.
In other contests in the division, Flying Dutchmen had a 13-run fifth inning, capped by a three-run homer by Dylan Montana and a grand slam by Mike Schmitt en route to their 25-11 victory over Team USA. The Guild also had a 13-run inning to knock off Ball So Hard in a 20-7 blowout.
In the co-rec recreational league, WTOP and the Athletes are the only teams to start off 2-0 after two wins over The Bulldogs. Funnelle All-Stars and RIP C Boys also have two wins after going 2-1 in their first three matchups.
Meanwhile, Oswego State, The Fitness Center, and Lifestyles put on the annual O-Mazing Race event across campus this past Saturday, Sept. 14.
The event tested teams of two in seven different events including an obstacle course, mud pit, mile run, brain teasers, a swimming event, puzzle and tire pull that tested their physical and mental endurance and strength.
Team Aca-Awesome took home the win along with two $100 gift cards to Dick's Sporting Goods in the Women's Division, while Da Bears won the same prize in the Open Division.