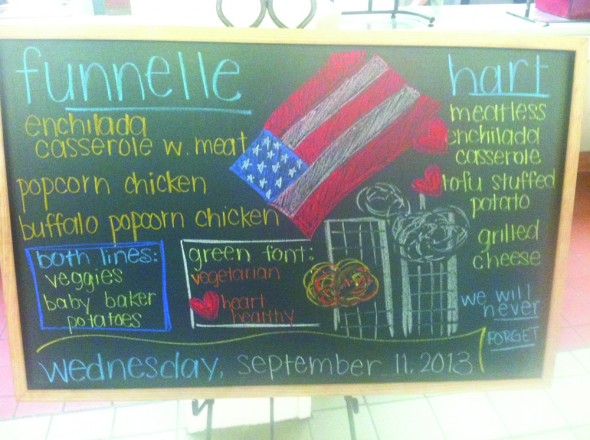 A chalk drawing depicting the 2001 attack on the Twin Towers at the World Trade Center appeared on the Cooper Dining Hall lunch menu Wednesday, causing anger for some students on the 12th anniversary of the attacks.
The drawing clearly shows flames and smoke billowing out of the towers, along with an American flag and "We will never forget" written underneath the buildings. Last year on Sept. 11, the menu displayed a simple drawing of the two standing towers. The addition of the smoke and flame this year, which were drawn accurately to some footage taken in 2001, takes the message a little too far according to some students.
"I don't think it is appropriate at all," junior Ali Bickert said. "I was shocked when I walked into Cooper and saw this. This is not the way we should be remembering what happened on 9/11. We should be thinking about and honoring those who lost their lives or risked their lives that day. Besides, we all know what happened, we don't really need to see a drawing depicting the towers going up in flames in the dinning hall at school."
The events of 12 years ago can be a sensitive subject to students at Oswego State. With many students coming from New York City, Long Island and surrounding areas, there are many students who were impacted personally by the attacks due to their close promximity.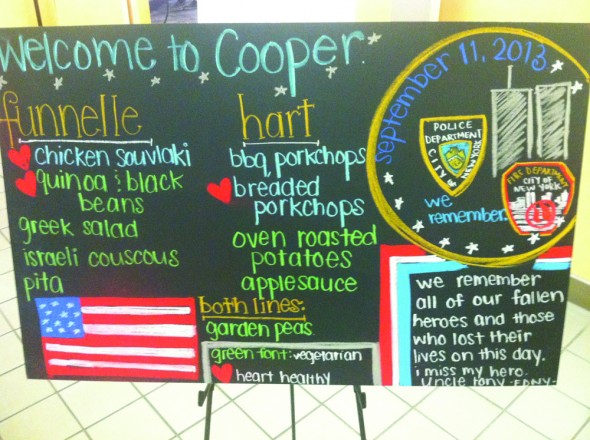 Junior Gabbi Reimann, who lives in Westchester County and lost a lot of friends in the attacks in New York and almost lost her parents, who worked in the World Trade Center.
"I feel like it's a day that you're supposed to remember what happened," Reimann said. "You're not supposed to be reminding people what it is. And they made it look cute. They did it with chalk and put little hearts around it like it was a cartoon in a coloring book."
Some students understand why others would be angered by the drawing, but are sure the artist didn't mean any harm by it. The message of mourning was still clear, they said.
"In my opinion this is a bit over the top and the dining hall should be a little more sensitive to how people feel on this day," junior Jon Ferguson said. "However, there are plenty pictures online depicting the Twin Towers in flames or in smoke with an American flag saying 'We will never forget' and no one seems to find that over the top."
Tamara Cunningham, building manager of Cooper Dining Hall, said the dining staff did receive complaints about the drawing throughout the day and took down the menu and modified the drawing before students came in for dinner. The Twin Towers and American flags remained on the menu with the absence of flames and smoke and the addition of the emblems of the New York City Fire Department and Police Department, along with a dedication to an individual lost on that day.
"We apologize to anyone we may have offended," Cunningham said. "They were meant to commemorate, they weren't meant to offend."
Cunningham also said that one of Cooper's student employees drew the picture. The menu is usually filled with illustrations during holidays and days of significance.
Cooper Dining Hall posted a statement on their comment-card wall that said "the boards we posted were created by an individual that personally lost a dear loved one on 9/11." Dining Hall staff assured students that the drawings intended no offense toward those affected by 9/11, the victims or the survivors.